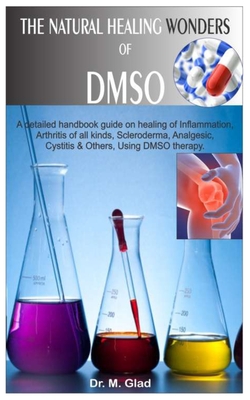 The Natural Healing Wonders of Dmso.: A detailed handbook guide on healing of Inflammation, Arthritis of all kinds, Scleroderma, Analgesic, Cystitis &
Paperback
Currently unavailable to order
ISBN13:
9798685676320
Publisher:
Independently Published
Published:
Sep 12 2020
Pages:
110
Weight:
0.26
Height:
0.23
Width:
5.00
Depth:
8.00
Language:
English
THE NATURAL HEALING WONDERS OF DMSO.
A detailed handbook guide on healing of Inflammation, Arthritis of all kinds, Scleroderma, Analgesic, Cystitis & Others, using DMSO therapy. DMSO with full meaning Dimethyl sulfoxide is a glacial biological liquid commonly used as a natural diluent and a radical yet essential forager. It has numerous pharmacological effects, functioning as an analgesic, anti- in flammant amongst others. It infiltrates into skins and layers easily and serves as a means of transportation for other drugs and pharmaceutical agent to get into membranes. Dimethyl sulfoxide is biochemical in nature, it is a compound agent represented thus - (CH3)2SO, it is liquid, has no color and could easily dissolve in water and many other natural diluents. It is of the class 3 solvents and has relatively no harmful potentials. This book contains what you need to know and how you can possibly combine DMSO with other chemical supplement at certain percentage (%), for effective healing delivery. In this book, you will enlightened on the best and safest ways of handling and administering DMSO, with or without the presence of a medical expert. This book extensively covers how you can treat arthritis using DMSO, as well as treat scleroderma, Headaches and other bodily inflammation with little or no stress. This book also explains how you can effectively use DMSO as Cryoprotectant. This book is indeed a perfect guide for you.!