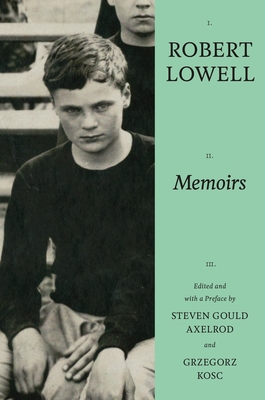 ISBN10:
0374258929
ISBN13:
9780374258924
Publisher:
Farrar Strauss & Giroux
Published:
Aug 2 2022
Pages:
400
Weight:
1.47
Height:
1.29
Width:
6.36
Depth:
9.47
Language:
English
A complete collection of Robert Lowell's autobiographical prose, from unpublished writings about his youth to reflections on the triumphs and confusions of his adult life.
Robert Lowell's
Memoirs
is an unprecedented literary discovery: the manuscript of Lowell's lyrical evocation of his childhood, which was written in the 1950s and has remained unpublished until now. Meticulously edited by Steven Gould Axelrod and Grzegorz Kosc, it serves as a precursor or companion to his groundbreaking book of poems
Life Studies
, which signaled a radically new prose-inflected direction in his work, and indeed in American poetry.
Memoirs
also includes intense depictions of Lowell's mental illness and his determined efforts to recover. It concludes with Lowell's reminiscences of other writers, among them T. S. Eliot, Robert Frost, Ezra Pound, John Berryman, Anne Sexton, Hannah Arendt, and Sylvia Plath.
Memoirs
demonstrates Lowell's expansive gifts as a prose stylist and his powers of introspection and observation. It provides striking new evidence of the range and brilliance of Lowell's achievement.
Includes black-and-white photographs
1 different editions
Also available