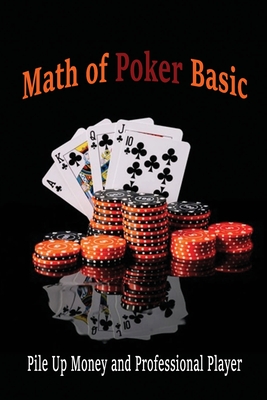 Math of Poker Basic: Pile Up Money and Professional Player: Essential Poker Math
Paperback
Currently unavailable to order
ISBN13:
9798686402812
Publisher:
Independently Published
Published:
Sep 15 2020
Pages:
58
Weight:
0.22
Height:
0.14
Width:
5.98
Depth:
9.02
Language:
English
Poker math is a vitally important aspect to no-limit hold'em poker, but it's often overlooked or simply not used because many poker players fear it's too difficult to learn. I'm here to tell you it is not. In fact, fundamental poker math is very easy to learn. More importantly, it can yield you a lot more profits at the poker table.
In this book, I'll teach you how to use simple math at the poker table to gain a huge skill advantage over your opponents that'll allow you to win more and lose less, you'll be introduced to several fundamental overarching poker concepts that apply to poker math. Then we'll begin our journey into poker math where you'll learn about fundamental poker mathematics, including probabilities and odds, pot equity, pot odds, implied odds, the rule of two and four, expected value (EV), and much more. We'll then embark on a journey of learning about important pre-flop and post-flop poker mathematical concepts, such as pre-flop all-in situations, set-mining, steal attempts, three-bet bluffing, betting with the best hand, semi-bluffing all-in, bluffs and hero calls, you'll learn how to perform basic and intermediate expected value calculations and utilize card combinations, better known as combinatorics.