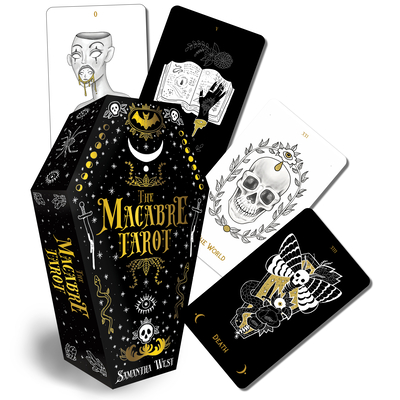 The Macabre Tarot: 78 Card Deck and 128 Page Book
Other
Publisher Price: $34.95
ISBN10:
1925946738
ISBN13:
9781925946734
Publisher:
Rockpool Pub
Published:
Dec 31 2021
Weight:
1.20
Height:
2.10
Width:
4.70
Depth:
8.80
Language:
English
A truly macabre design--a tarot deck in the shape of the coffin!
The Macabre Tarot tempts you to turn away from the light and embrace the dark. While following the traditional tarot structure, the deck takes a look at the darker sides of the cards and implores you to embrace all the spooky things that lurk in the shadows. You will be pushed down the rabbit hole of your own psyche and forced to face your darkest thoughts. This unique deck is based on the traditional Rider Waite system but with suites being Crystals, Cups, Bones and Daggers.
Be warned: this deck is not for the lighthearted or weak-spirited.