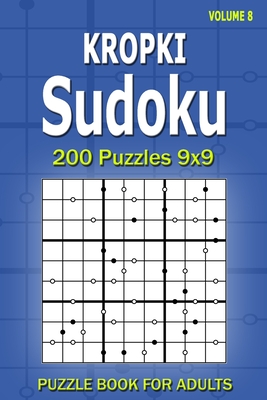 Kropki Sudoku Puzzle Book for Adults: 200 Puzzles 9x9 (Volume 8)
Paperback
ISBN13:
9798500442932
Publisher:
Independently Published
Published:
May 7 2021
Pages:
122
Weight:
0.38
Height:
0.26
Width:
5.98
Depth:
9.02
Language:
English
The book contains 200 Kropki Sudoku puzzles 9x9.

All riddles have only 1 solution.
2 puzzles per page.
The font size is correct you will not have to strain your eyes when solving puzzles.
High quality paper and print (all puzzles read well, easy to write with pen and pencil without worry of bleed-through).
Kropki Sudoku is the variation of the original sudoku. If absolute difference between two digits in neighboring cells equals 1, then they are separated by a white dot. If the digit is a half of digit in the neighboring cell, then they are separated by black dot. The dot between 1 and 2 can be either white or black.