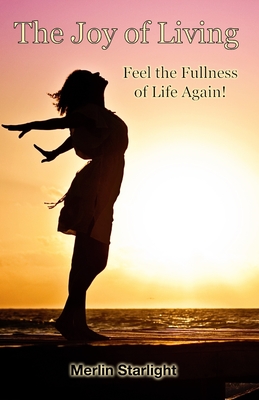 The Joy of Living: Feel the Fullness of Life Again!
Paperback
ISBN13:
9798500508584
Publisher:
Independently Published
Published:
May 11 2021
Pages:
198
Weight:
0.57
Height:
0.45
Width:
5.50
Depth:
8.50
Language:
English
Are you seeking to experience more joy in life? Or would you like to restore that simple love of life you had as a child? Maybe you've been feeling depressed lately and you're seeking relief. Or maybe you've struggled with anxiety or fear of the future. Perhaps it's not that severe, but you just have a general disappointment or dissatisfaction with life. Maybe you regularly experience discontentment, frustration, or excessive stress.
Would you like to change all of that? To find your true self? To come to experience happiness, peace, and joy in daily life? Embark on a journey of personal transformation to an inner state of blissful joy!
The Joy of Living
aims to resolve all emotional struggles, whether mild or severe. It addresses internal suffering at every level, from the deep suffering of depression to the more common yet often undetected suffering of inner agitation. Yes, you can feel good on a daily basis and find joy on the inside! Learn to control your thoughts, control your emotions, and control your mind. Emotional control is self control, and letting go is the path to it. Why not let go, enjoy life, and experience the wholeness of self love? Learn to release emotions and empower yourself extremely! Want to not only feel better but find freedom, experience peaceful living, enjoy your life, and truly love life again? Come along on a journey of finding purpose, of finding peace, of finding freedom, of finding yourself-and thereby finding joy! Experience the happiness of living a full life and of not just feeling better but feeling good-even feeling great-every day! This book can bring you from your current emotional state-whether that is one of depression, anxiety, discouragement, stress, disappointment, or simply dissatisfaction with life-to a state of pure, deep, ecstatic joy in daily life! It brings you step by step along a journey of emotional healing, personal growth, self empowerment, and enlightenment of the soul. It explores the inner workings of your consciousness, brings you to deep self awareness, and shows you the way to reconnect with your true self within. Come to understand the purpose of life, know deep inner peace, and live joyously! Knowing yourself is the key to living fully. Being real is a key to being happy. The goal of this book is to bring you to the full realization of inner freedom, peace, love, and joy! Of course, you must take the necessary actions in order for this inner transformation to occur. To that end, the book provides meditative exercises at the end of each chapter to guide you step by step along your journey and to help you progress along your path of self development. Merlin Starlight's intuitive writing style and clear descriptions make it easy to understand the complexities of emotional well-being, consciousness, and the inner workings of your mind. He plainly shows you the path to how you can actually make significant changes on the inside-changes that will transform your life!