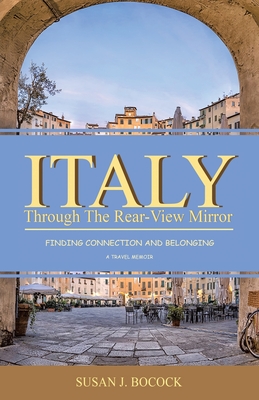 ISBN10:
0228844495
ISBN13:
9780228844495
Publisher:
Tellwell Talent
Published:
May 7 2021
Pages:
252
Weight:
0.65
Height:
0.53
Width:
5.50
Depth:
8.50
Language:
English
Italy Through the Rear-View Mirror weaves together heart-warming and humorous stories focused on characteristic aspects of Italian culture-its traditions and rituals, its food, and of course its people and their engaging approach to 'living life in the piazza'. But, as we discover, these are just the backdrop for a more compelling narrative.

While pursuing her insatiable passion for Italy, travelling to all twenty regions over fifteen years, Italy and its inhabitants helped Susan discover the real reason behind a growing attachment to this sun-drenched country. Beneath the obvious beauty and intriguing diversity that we learn about, she knew there was something deeper building her sense of connection to a country she otherwise had no connection with. A rear-view mirror perspective opened Susan's eyes to the underlying role of every-day aspects of Italian life in fostering those connections-the ties that were binding it all together for her, and her to it.

Travel was the vehicle and Italy the teacher, helping to illuminate how we are all wired for connection, how we crave a sense of belonging, and how simple human encounters can feed our soul. Italy Through the Rear-View Mirror inspires us to reflect on our own journey, whether it involves travel or not, and in the process learn about our connection to this global community we call humanity. In fragile times, when our capacity to travel may be constrained and our ability to connect feels distant, the message is even more relevant.
Also in
Biographies General