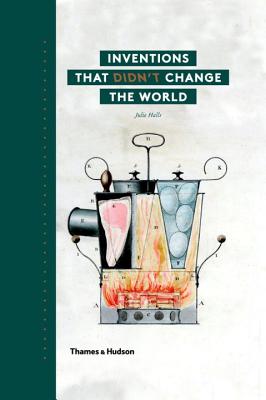 ISBN10:
0500517622
ISBN13:
9780500517628
Publisher:
Thames & Hudson
Published:
Dec 9 2014
Pages:
224
Weight:
1.90
Height:
1.10
Width:
7.00
Depth:
9.70
Language:
English
Inventions that Didn't Change the World is a fascinating visual tour through some of the most bizarre inventions registered with the British authorities in the nineteenth century. In an era when Britain was the workshop of the world, design protection (nowadays patenting) was all the rage, and the apparently lenient approval process meant that all manner of bizarre curiosities were painstakingly recorded, in beautiful color illustrations and well-penned explanatory text, alongside the genuinely great inventions of the period. Irreverent commentary contextualizes each submission as well as taking a humorous view on how each has stood the test of time.

This book introduces such gems as a ventilating top hat; an artificial leech; a design for an aerial machine adapted for the arctic regions; an anti-explosive alarm whistle; a tennis racket with ball-picker; and a currant-cleaning machine. Here is everything the end user could possibly require for a problem he never knew he had.

Organized by area of application--industry, clothing, transportation, medical, health and safety, the home, and leisure--Inventions that Didn't Change the World reveals the concerns of a bygone era giddy with the possibilities of a newly industrialized world.