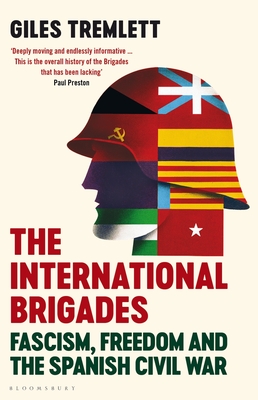 ISBN10:
1408853981
ISBN13:
9781408853986
Publisher:
Bloomsbury
Published:
Aug 24 2021
Pages:
720
Weight:
2.74
Height:
2.41
Width:
6.36
Depth:
9.51
Language:
English
"Amazingly clear-eyed history about the international brigades. Especially interesting in looking at the international response to Ukraine. The line between idealists and mercenaries or soldiers and criminals gets pretty thin sometimes!" --Caitlyn
A comprehensive and deeply-researched history of the Spanish Civil War through the lens of the men and women who traveled from around the world to fight Franco's fascism.

The Spanish Civil War was the first armed battle in the fight against fascism, and a rallying cry for a generation. Over 35,000 volunteers from fifty-two countries around the world came to defend democracy against the troops of Franco, Hitler, and Mussolini.
Ill-equipped and disorderly, yet fueled by a shared sense of purpose and potential glory, disparate groups of idealistic young men and women banded together to form a volunteer army of a size and kind unseen since the Crusades, known as the International Brigades. These passionate liberal fighters-from across Europe, China, Africa and the Americas-would join the Republican cause, fighting for over two years on the bloody battlegrounds of Madrid, Jarama and Ebro. Were they heroes or fools? Saints or bloodthirsty adventurers? And what exactly did they achieve? In this magisterial history, award-winning historian Giles Tremlett tells-for the first time-the story of the Spanish Civil War through all the human drama of an historic mission to halt fascist expansion in Europe.
The International Brigades
shows just how far ordinary people will go to save democracy against overwhelming odds.
Also in
Spainish & Portuguese History