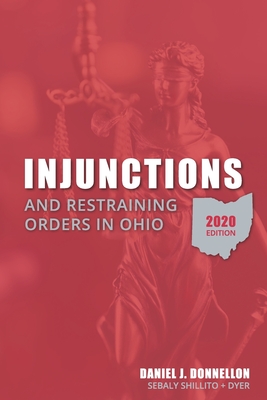 Injunctions and Restraining Orders in Ohio 2020 Edition
Paperback
ISBN13:
9798656478915
Published:
Jun 27 2020
Pages:
230
Weight:
0.75
Height:
0.52
Width:
5.98
Depth:
9.02
Language:
English
INJUNCTIONS
and Restraining Orders in Ohio
A guide to relief under Ohio Civil Rule 65 and Related Statutes
2020 Edition
This legal text guides both attorneys and judges who may find themselves in somewhat uncharted waters when facing issues relating to temporary restraining orders and preliminary/permanent injunctive relief. The author, Dan Donnellon, has been described as the guru of Injunctions in Ohio and frequently lectures at Continuing Judicial Education on this extraordinary remedy. The Twenty-Three Chapter book is based upon over three decades of doing primarily business litigation with a focus on cases involving such extraordinary relief. It also includes a Frequently Asked Questions Chapter for the issues that plague new, and even experienced, judges called upon to decide such cases.