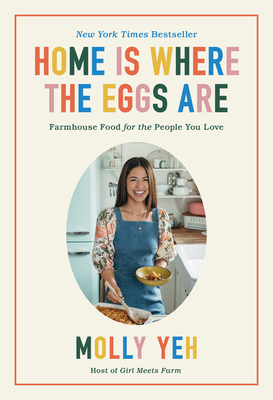 ISBN10:
0063052415
ISBN13:
9780063052413
Publisher:
William Morrow
Published:
Sep 27 2022
Pages:
368
Weight:
2.50
Height:
1.34
Width:
7.11
Depth:
9.93
Language:
English
NEW YORK TIMES BESTSELLER
From the host of Food Network's Girl Meets Farm and bestselling author of the IACP award-winning Molly on the Range, a collection of cozy recipes that feel like celebrations.
Home Is Where the Eggs Are is a beautiful, intimate book full of food that's best enjoyed in the comfort of sweatpants and third-day hair, by a beloved Food Network host and new mom living on a sugar beet farm in East Grand Forks, MN. Molly Yeh's cooking is built to fit into life with her baby, Bernie, and the naptimes, diaper changes, and wiggle time that come with having a young child, making them a breeze to fit into any sort of schedule, no matter how busy. They're low-maintenance dishes that are satisfying to make for weeknight meals to celebrate empty to-do lists after long workdays, cozy Sunday soups to simmer during the first (or seventh!) snowfall of the year, and desserts that will keep happily under the cake dome for long enough that you will never feel pressure to share.