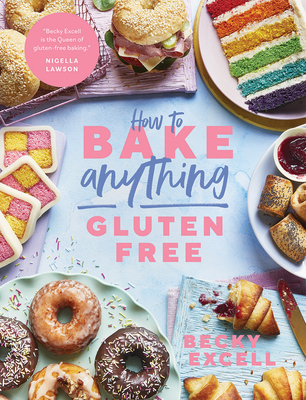 How to Bake Anything Gluten Free (from Sunday Times Bestselling Author): Over 100 Recipes for Everything from Cakes to Cookies, Doughnuts to Desserts,
Hardcover
Publisher Price: $29.99
ISBN10:
1787136639
ISBN13:
9781787136632
Publisher:
Quadrille
Published:
Nov 16 2021
Pages:
224
Weight:
2.10
Height:
1.00
Width:
7.70
Depth:
9.90
Language:
English
Are you avoiding gluten but yearn for fluffy cakes, fresh bread, warm donuts, sticky pastries and gooey brownies? From best-selling author Becky Excell, How to Bake Anything Gluten Free is the first cookbook that shows you how turn your kitchen into your own personal gluten-free bakery - but nothing tastes or looks gluten-free! Becky has spent years developing delicious recipes and sharing them with her followers on Instagram. She is here to show you that a gluten-free life can be exciting and simple, without having to miss out on your favorite bakes ever again. Ever ordered dessert and ended up with fruit salad? Ever walked into a bakery and realized you can only eat the napkins? Or (worst of all) ever experienced the awkward moment of not being able to eat your own birthday cake?! Well this book is here to change all that - for good. From rainbow cake to smores brownies, red velvet cupcakes to Krispy-Kreme-style donuts, triple-chocolate cookies to strawberry cheesecake, black forest gateau to apple pie, bagels to cinnamon rolls, classic Cornish pasty to mini beef wellingtons, plus a whole chapter dedicated to the ultimate gluten-free Christmas (including dairy-free, vegan, veggie and low FODMAP options), Becky gives you all the recipes you'll ever need with tips and advice on how to bake absolutely anything gluten-free.