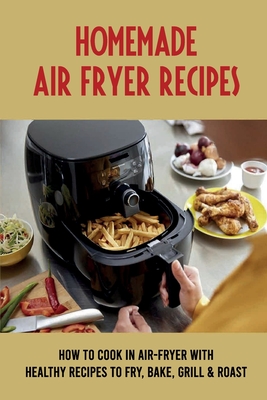 Homemade Air-Fryer Recipes: How To Cook In Air-Fryer With Healthy Recipes To Fry, Bake, Grill & Roast: How To Use Air Fryer To Cook Meat
Paperback
ISBN13:
9798520716433
Publisher:
Independently Published
Published:
Jun 14 2021
Pages:
156
Weight:
0.52
Height:
0.36
Width:
5.98
Depth:
9.02
Language:
English
You won't believe all the things your air fryer can do. From homemade chicken tenders to crispy Brussels sprouts, and even a full meal, these recipes will help you make the most of your new air fryer.
Here are some things you will find in this fabulous book:
-All the Benefits of the Air Fryer and how it will improve your health and that of your Family
-Tips and Tricks to Make the Most out of Your Air Fryer and Have the Crispiest Result Ever
-Valuable Tools to Exploit all potential of the Air Fryer
-FAQ Section to answer the most frequently asked questions
-Quick Breakfast for the Whole Family. The scent of eggs in the morning on crunchy bread, delicious pancakes ready in a few minutes without dirtying a thousand pots
-Tasty Snacks & Appetizer. Perfect for hunger stroke during the day, maybe an aperitif to be organized at the last minute, or Snack for the Kids
-Healthy Vegetable Meals and Side Dishes
-Original 100 % Vegan recipes. Delicious Vegan Hamburger, Crispy Avocado, sweet Peach Pie, and more...
-Fresh Fish and Seafood Recipe. Salmon, whole Sea Bream, Scallops, Shrimps, Sole, Crab, Catfish...
-Crispy Chicken and Poultry. Wide variety of cooking styles for different poultry recipes and, of course, the mouth-watering crunchy effect for the classics
-Juicy Beef, Pork, and Lamb. For protein lovers, succulent steaks to sink your teeth into, cooked in a few minutes without grilling and making annoying and stinking smoke
-Amazing Dessert. Soft and sweet Cheesecakes, Brownies, crunchy and warm, Freshly Baked Chocolate Cookies, Glazed Donuts. Muffins and more ...
Also in
Cookbooks General