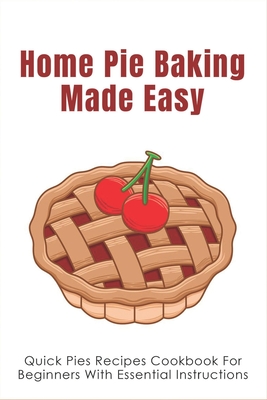 Home Pie Baking Made Easy: Quick Pies Recipes Cookbook For Beginners With Essential Instructions: How To Bake Desserts Pies
Paperback
ISBN13:
9798519832861
Publisher:
Independently Published
Published:
Jun 13 2021
Pages:
80
Weight:
0.28
Height:
0.19
Width:
5.98
Depth:
9.02
Language:
English
Pie made foolproof-all you knead is love
A warm slice of homemade pie can complete any celebration-but every baker knows that a problematic pie is enough to sour a sweet occasion. This pie cookbook gives you the support you need to start making perfect, homemade pies from scratch.
In this book, you will discover:
- Solutions for common pie baking problems, how to recommendations that you'll want to read and learn before baking your next or your first pie.
- Essential tool and equipment for Making and Baking Pies
- Perfect Flaky Pie Crusts Tips, Advice & Secrets
- Flaky Pie Crust Directions
- Rolling Dough Tips
- Rolling Out the Perfect Pie Dough
- Trimming & Glazing a Pie Crust
- Venting Pie Tops
- Getting a Golden Crust Finish
- FLUTTED, crimped and lattice pie trims
- Baking Your Fresh Homemade Pie
- Baking Pie Shell Crust Only
- Choosing the Right Type of Apples, peaches, rhubarb and cherries
- And so much more!