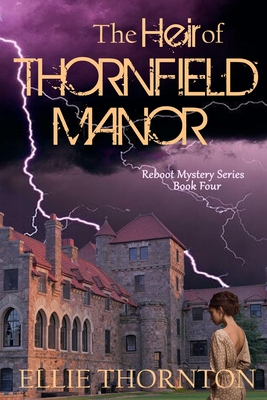 The Heir of Thornfield Manor
Paperback
Series: The Reboot Mystery, Book 4
Currently unavailable to order
ISBN13:
9798591563714
Publisher:
Independently Published
Published:
Jan 30 2021
Pages:
234
Weight:
0.70
Height:
0.49
Width:
6.00
Depth:
9.00
Language:
English
He's a grieving widower of three years . . .She's undercover working his wife's murder case.But there's more going on in Thornfield Manor than either of them realize.

Even though Detective Elizabeth Shea worked with the feds on a case a year before, the last thing she expects is to be requested on a murder case in a rural California town called Thornfield. Almost three years after Katelyn Daley was murdered in her home, without any leads, the case went cold - until a week ago when a doctor was killed in the same execution style as her.
Now with new leads, the Feds need Elizabeth to go undercover in Thornfield Manor and watch over its heir, Patrick Daley - the widower and ex-psychic who sometimes consults with the Feds, and with whom she feels an inexplicable bond. Elizabeth's job seems pretty straightforward - make sure Daley stays out of trouble until the case is solved. But, the more she learns, the more complicated it becomes. The police work on Katelyn's murder was shoddy at best with lost evidence, missing witnesses and suspects, and a timeline that doesn't quite add up. And that doesn't even include the creepy laughter drifting through the manor's halls at night or the attempt on Patrick's life. If this case keeps going as is, Elizabeth is at risk of losing much more than she ever expected - her heart, her job, and possibly the life of the man she never meant to love.
Also in
Christian Fiction