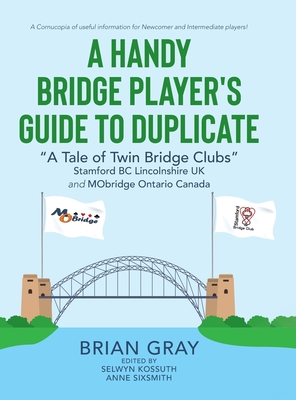 A Handy Bridge Player's Guide to Duplicate: A Tale of Twin Bridge Clubs Stamford BC Lincolnshire UK and MObridge Ontario Canada
Hardcover
Crafts GeneralBaseball & Softball
ISBN10:
0228853931
ISBN13:
9780228853930
Publisher:
Tellwell Talent
Published:
May 28 2021
Pages:
180
Weight:
1.89
Height:
0.63
Width:
8.50
Depth:
11.00
Language:
English
Duplicate Bridge is a fun and yet challenging card game, the world's best mind sport.
Let me be your newcomer guide and mentor. Learn from my mistakes/experiences.
I still remember my first game: I just walked into a bridge club without a partner, not knowing anyone in the hall, where thirty tables were set up for the afternoon game. I knew how to play bridge, but not in the Duplicate style. I was apprehensive, understandably nervous, and a little intimidated.
1 different editions
Also available
Also in
Baseball & Softball