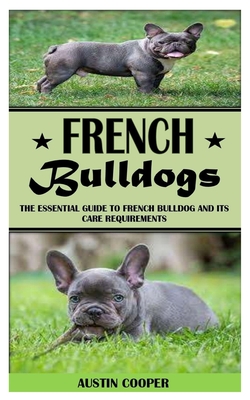 French Bulldogs: The Essential Guide To French Bulldog And Its Care Requirements
Paperback
Currently unavailable to order
ISBN13:
9798522726546
Publisher:
Independently Published
Published:
Jun 18 2021
Pages:
52
Weight:
0.13
Height:
0.11
Width:
5.00
Depth:
7.99
Language:
English
French Bulldogs are spunky, entertaining dogs that are often referred to as the clowns of the dog world. Despite their name, these pint-sized pooches were developed in England during the 1800s and they quickly became popular. The jovial little canines were particularly adored by royal families and lace workers alike, and their loyal, loving natures continue to delight people of all ages today.
This book will give you insight into the long history of the French Bulldog, teach you how to pick the best canine companion for you, and illustrate how to create an enriching environment for your clever Frenchie. In these pages, you will discover not only the best training methods for this breed but also how to avoid or extinguish problem behaviors.
Although Frenchies are known to be a good breed for novice pet parents, adding a new member to your household is always a challenge and an adventure. Each page in this thorough breed guide will help you to better understand and adore your clownish canine. Read this book to gain more knowledge about your French Bulldog's health, history, and temperament, including: The history of the French Bulldog, How to choose your French Bulldog puppy, Adopting an adult Frenchie, How to puppy-proof your home and yard, What to expect the first few days, Getting the most out of the first month, How to handle introductions to other pets, Effective methods for house-training French Bulldog puppies, Diet, nutrition, and your Frenchie
The in-depth information found in this guide will not only help you decide if this is the right breed for you but will also tell you how to go about locating the right individual canine for your household.