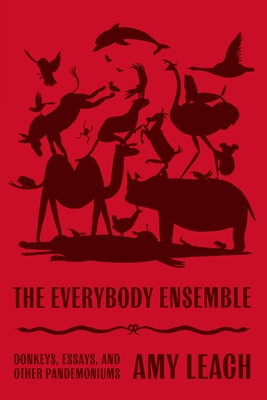 ISBN10:
0374109664
ISBN13:
9780374109660
Published:
Nov 16 2021
Pages:
208
Weight:
0.60
Height:
0.90
Width:
5.00
Depth:
7.60
Language:
English
In short, gloriously inventive essays, Amy Leach invites us to see and celebrate our oddball, interconnected world
Are you feeling dismay, despair, disillusion? Need a break from the ho-hum, the hopeless, and the hurtful? Feel certain that there's a version of our world that doesn't break down into tiny categories of alliance, but brings everybody together into one clattering, sometimes discordant but always welcoming chorus of glorious pandemonium? Humans, please turn your guns into kazoos. Amy Leach, the celebrated author of the transcendent
Things That Are
, invites you into
The Everybody Ensemble
, a book filled with praise songs, poetry, ingenious critique, soul-lifting philosophy, and whimsical but scientific trips into nature. It is equal parts call to reason and joy--where reason involves a long view of self-interest that, necessarily, means taking care of the earth and everything in it. In these pages, meet platypus, Tycho Brahe (and his moose), barnacle goslings, medieval mystics, music theory, photosynthetic bacteria, and a wholly fresh representation of the biblical Job. Through these and more, Leach delivers unexpected wisdom and a wake-up call that sounds from within. For readers of Ross Gay, Eula Biss, Anne Lamott, Annie Dillard, Ralph Waldo Emerson, and even Lewis Carroll, these twenty-four essays will be a perfect match. They are an effervescent tonic for the curious, the exhausted, and anyone in need of a good mind-stretch or a liberating belly laugh.