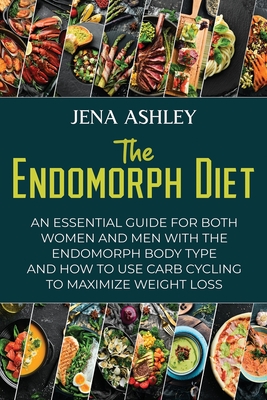 The Endomorph Diet: An Essential Guide for Both Women and Men with the Endomorph Body Type and How to Use Carb Cycling to Maximize Weight
Paperback
ISBN13:
9798519422888
Publisher:
Independently Published
Published:
Jun 12 2021
Pages:
342
Weight:
1.01
Height:
0.71
Width:
5.98
Depth:
9.02
Language:
English
Two manuscripts in one book:
Endomorph Diet: The Ultimate Weight Loss Guide for Women and Men with the Endomorph Body Type Includes Delicious Recipes, a Meal Plan, Exercises, and Strategic Intermittent Fasting Tips
Carb Cycling: Unlocking the Power of the Carb Cycling Diet for Weight Loss Among Both Women and Men Includes Delicious Recipes, a Meal Plan, and Strategic Intermittent Fasting Tips
In part one of this book, you'll discover why trying to lose weight is very challenging if you have the endomorph body type. More than just discovering why all your previous diet attempts have failed, you'll learn how to diet and exercise in ways that are most suited for your body type.
In part one, you will:
Discover the three different kinds of weight loss and which one of them should be your goal.
Find out how to calculate your daily caloric intake, which will allow you to lose the right kind of weight consistently.
Uncover the three different types of calories (or macronutrients) -and based on your estimated total daily caloric intake, how much of each to consume every day to lose weight.
Learn which foods to focus on and which foods to avoid.
Discover three of the most popular intermittent fasting protocols and which of them you should use to complement the endomorph diet for optimal weight loss.
Get 20 delicious, low-carb recipes to help you feel satisfied while on the endomorph diet.
And so much more!
Part two of this book introduces you to the carb cycling diet, which allows you to lose weight and improve your body's metabolism.
This dietary approach recommends that you do not eliminate carbs from your diet but instead alternate between low carb and high carb days. This diet has gained popularity in the last decade because of the many benefits it offers.
In part two, you will:
Get an introduction to the carb cycling diet and the guidelines to help you achieve success.
Discover the many benefits of the diet and the science behind it.
Get an understanding of macronutrients and their effect on your body.
Learn the relationship between macronutrients and calories.
Discover how to calculate the number of calories you need to consume based on your total energy expenditure.
Learn how to exercise properly while you follow this plan.
Investigate how to combine intermittent fasting with the carb cycling diet.
Find delicious recipes for low and high carb days.
And so much more!
So, what are you waiting for?
Click on the add to cart button and grab your copy today!