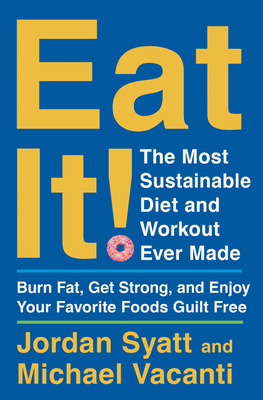 Eat It!: The Most Sustainable Diet and Workout Ever Made: Burn Fat, Get Strong, and Enjoy Your Favorite Foods Guilt Free
Hardcover
Diet & NutritionGeneral Fitness
Publisher Price: $27.99
ISBN10:
0063015005
ISBN13:
9780063015005
Publisher:
Harper Business
Published:
Jun 7 2022
Pages:
240
Weight:
0.70
Height:
1.00
Width:
5.50
Depth:
8.40
Language:
English
Foreword by Gary Vaynerchuk
Gary Vaynerchuk's personal trainers explain how you can enjoy your favorite foods without guilt while losing weight, getting stronger, and improving your health.
Some experts say, Don't eat carbs because insulin makes you fat. Other experts say, Don't eat fat because fat makes you fat. Others say, Don't eat protein because protein makes you fat. Some even say, Don't eat fruit because sugar makes you fat. So the logical conclusion would be not to eat anything at all . . . except for the other experts who say that makes you fat because it's starvation mode.