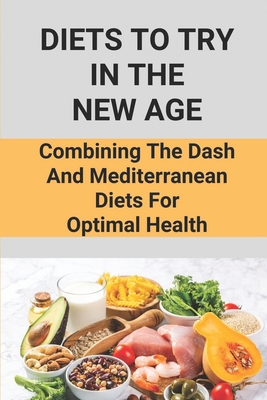 Diets To Try In The New Age: Combining The Dash And Mediterranean Diets For Optimal Health: Easy Mediterranean Diet Meal Plan
Paperback
Currently unavailable to order
ISBN13:
9798522138288
Publisher:
Independently Published
Published:
Jun 17 2021
Pages:
158
Weight:
0.53
Height:
0.37
Width:
5.98
Depth:
9.02
Language:
English
The DASH diet has been named the best diet in the United States by U.S. News and World Report. However, the U.S. government panel writing the 2015 Dietary Guidelines for Americans cited the Mediterranean diet as an example of how we should eat. If you're trying to choose the best eating plan to lower your health risks, which one should it be?

The 2 best diets right now, in a book!

This book therefore includes:

1. Dash Diet the complete guide:

Do you want to lower blood pressure, prevent cancer, diabetes, cardiovascular disease, and lose weight at the same time?

If you follow the DASH DIET THE COMPLETE GUIDE, this happens naturally.
You will be able to improve your metabolism, lose weight and improve your overall health with a few simple steps to follow without suffering from hunger.
It's very simple! for beginners.
These are some of the benefits of the dash diet:

-Low blood pressure
-Cancer prevention
-Less risk of diabetes and metabolic syndrome
-Minor cardiovascular disease problems.

2. Mediterranean diet

In this book you will find:

-What is the exact Mediterranean diet?
-History of the Mediterranean diet
-Benefits of Mediterranean health
-Mediterranean food pyramid against traditional food pyramid
-Why is the Mediterranean the most healthy diet in the world?
-Effects of the Mediterranean diet
-Come implement the Mediterranean diet in your lifestyle
-Mediterranean diet: a heart-healthy diet
-Is the Mediterranean diet really effective for losing weight?
-28-day Mediterranean diet program
-And much more .....