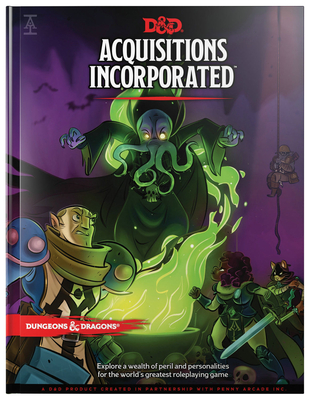 Dungeons & Dragons Acquisitions Incorporated Hc (D&d Campaign Accessory Hardcover Book)
Hardcover
Series: Dungeons & Dragons
Publisher Price: $49.95
ISBN10:
0786966904
ISBN13:
9780786966905
Publisher:
Wizards Of The Coast
Published:
Jun 18 2019
Pages:
224
Weight:
1.80
Height:
0.60
Width:
8.40
Depth:
11.00
Language:
English
Explore a wealth of peril and personalities in this campaign book for the world's greatest roleplaying game, Dungeons & Dragons.

Acquisitions Incorporated is a different flavor of Dungeons & Dragons. A fifth edition D&D book created in partnership with Penny Arcade Inc. and inspired by the podcast and web series, this book is full of madcap heists, hilarious moments, and all the ingredients you need to include the adventurers of Acquisitions Incorporated in your own fifth edition D&D campaign. - Start up your own Acquisitions Incorporated franchise in the Forgotten Realms or anywhere in the multiverse.

Also in
Role Playing Games