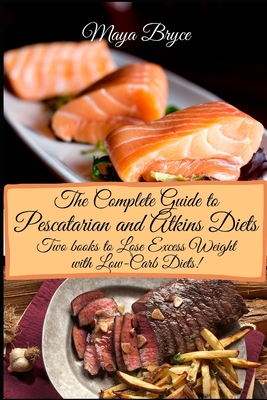 The Complete Guide to Pescatarian and Atkins Diets: Lose Excess Weight with Low-Carb Diets!
Paperback
ISBN13:
9798685621818
Publisher:
Independently Published
Published:
Sep 12 2020
Pages:
236
Weight:
0.71
Height:
0.50
Width:
5.98
Depth:
9.02
Language:
English
Pescatarian or Atkins Diet?With the union of these 2 books, you'll find the perfect diet for you!All adults fall victim to stress, extenuating life circumstances, or other obstacles which can lead to difficult times. Often these problematic periods can lead to dependence or an inclination to alleviate or mask pain. Many people fall prey to the temporary fixes that alcohol, drugs, and more commonly food can provide. However, it is only a temporary fix. In the long-term, it will not solve anything. It will only make things worse. But only you can fix your life and your health. You are not alone. Large portions of the population have a carbohydrate addiction and consequently, a metabolic disorder. And many people get drastic. They begin to starve and exercise themselves to death, often avoiding fat, and eat as little as possible. This will always lead to overeating at a later time. A low carb diet and healthy proteins and vegetables will lead to a good place. You can eat to fill nourished, energized, and happy! And once you complete the phases of the Proteic Diet, you will not have to monitor grams or restrict fruit, because you will know what is right for you and how to practice self-control. Starving yourself is never the answer. Nor is counting calories. That is not the way to live. To make a lasting, permanent change you have to fuel your body, so you can handle whatever other life stressors come in your way. You can eradicate two to three pounds every two weeks just from cutting out processed carbohydrates from your diet. What's even better is when you realize that you don't need them. Food should be fuel. This is what the low carb Diet helps you understand that by nourishing your body you are fuelling it for life. No more mindless snacking. No more pizza binges after a day of calorie counting. This is not what the low carb Diet promotes. For each individual, this Diet can help you look at food through a new perspective. You will no longer zero in on the pizza without remembering how bloated and heavy it made you feel after. You will no longer look at the burger without remembering how sleepy it made you in the middle of the day at work. You will remember how heavy you used to be, how sluggish, and how sad at how you could not participate in certain activities out of fear, insecurity, or sheer inability. Those days are over. Your new life has begun. Don't wait. With this book, you can move forward today and every day.There is nothing stopping you now!Want to know more about these Diets? Buy it now!