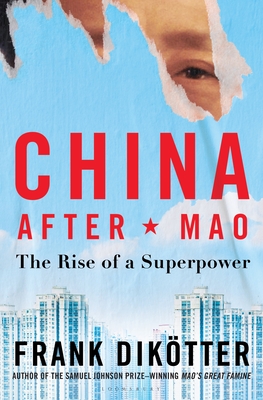 ISBN10:
1639730516
ISBN13:
9781639730513
Publisher:
Bloomsbury
Published:
Nov 15 2022
Pages:
416
Weight:
1.60
Height:
2.10
Width:
6.40
Depth:
8.60
Language:
English
A blow-by-blow account ... An important corrective to the conventional view of China's rise.--Financial Times
From internationally renowned historian Frank Dikötter, winner of the Samuel Johnson Prize, a myth-shattering history of China from the death of Chairman Mao to Xi Jinping.
Through decades of direct experience of the People's Republic combined with extraordinary access to hundreds of hitherto unseen documents in communist party archives, the author of The People's Trilogy offers a riveting account of China's rise from the disaster of the Cultural Revolution. He takes us inside the country's unprecedented four-decade economic transformation--from rural villages to industrial metropoles and elite party conclaves--that vaulted the nation from 126t -largest economy in the world to second -largest. A historian at the pinnacle of his field, Dikötter challenges much of what we think we know about how this happened. Casting aside the image of a society marching unwaveringly toward growth, in lockstep to the beat of the party drum, he recounts instead a fascinating tale of contradictions, illusions, and palace intrigue, of disasters narrowly averted, shadow banking, anti-corruption purges, and extreme state wealth existing alongside everyday poverty. He examines China's navigation of the 2008 financial crash, its increasing hostility towards perceived Western interference, and its development into a thoroughly entrenched dictatorship with a sprawling security apparatus and the most sophisticated surveillance system in the world. As this magisterial book makes clear, the communist party's goal was never to join the democratic world, but to resist it--and ultimately defeat it.