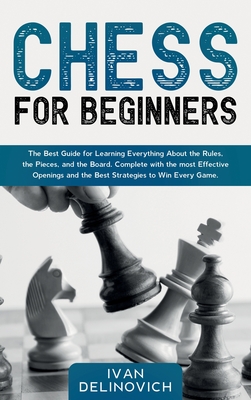 Chess for Beginners: The Best Guide for Learning Everything About the Rules, the Pieces, and the Board. Complete with the most Effective Op
Hardcover
ChessGeneral Board GamesLogic & Brain Teasers
Currently unavailable to order
ISBN13:
9791220079839
Publisher:
Lightning Source Inc
Published:
Jan 14 2021
Pages:
138
Weight:
0.78
Height:
0.38
Width:
5.98
Depth:
9.02
Language:
English
DO YOU WANT TO START PLAY CHESS EVEN IF ALL YOU KNOW ABOUT PIECES AND RULES COME FROM A TV SERIAL?
You are absolutely clueless about how chess work, but you find the game fascinating, and are mesmerized by the incredible strategies behind it?
It's not that strange; even if chess is one of the oldest games of human history, its rules and mechanics are not easy to understand. If you venture all by yourself into this stunning yet tricky universe, it will be challenging to get satisfactory results, and everything will take a lot of time.
1 different editions
Also available
Also in
General Board Games