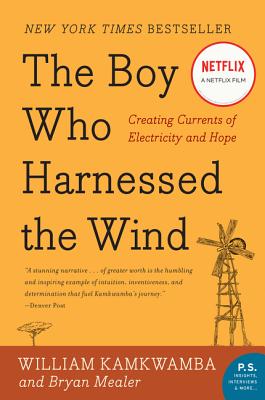 ISBN10:
0061730335
ISBN13:
9780061730337
Publisher:
Perennial
Published:
Jul 27 2010
Pages:
320
Weight:
0.55
Height:
0.80
Width:
5.30
Depth:
7.80
Language:
English
Awards:
Georgia Children's Book Award, Nutmeg Book Award, South Carolina Childrens, Junior and Young Adult Book Award, Washington Children's Choice Picture Book Award
Now a Netflix Film, Starring and Directed by Chiwetel Ejiofor of 12 Years a Slave
William Kamkwamba was born in Malawi, a country where magic ruled and modern science was mystery. It was also a land withered by drought and hunger. But William had read about windmills, and he dreamed of building one that would bring to his small village a set of luxuries that only 2 percent of Malawians could enjoy: electricity and running water. His neighbors called him misala--crazy--but William refused to let go of his dreams. With a small pile of once-forgotten science textbooks; some scrap metal, tractor parts, and bicycle halves; and an armory of curiosity and determination, he embarked on a daring plan to forge an unlikely contraption and small miracle that would change the lives around him.
7 different editions
Also available
Also in
Biographies General