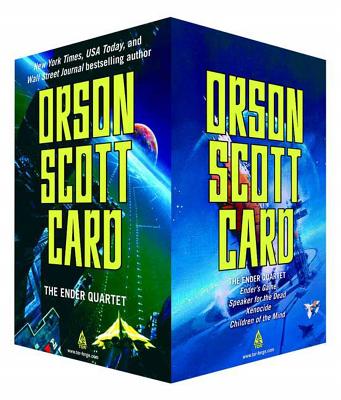 The Ender Quartet Boxed Set: Ender's Game, Speaker for the Dead, Xenocide, Children of the Mind
Paperback
Series: Ender Saga
Currently unavailable to order
ISBN10:
0765362430
ISBN13:
9780765362438
Publisher:
Tor Books
Published:
Nov 4 2008
Pages:
1760
Weight:
1.90
Height:
4.30
Width:
4.50
Depth:
6.90
Language:
English
This boxed set contains Orson Scott Card's Ender's Game, Speaker for the Dead, Xenocide, and Children of the Mind. Winner of the Hugo and Nebula Awards

Ender's Game
In order to develop a secure defense against a hostile alien race's next attack, government agencies breed child geniuses and train them as soldiers. A brilliant young boy, Andrew Ender Wiggin lives with his kind but distant parents, his sadistic brother Peter, and the person he loves more than anyone else, his sister Valentine. Peter and Valentine were candidates for the soldier-training program but didn't make the cut--young Ender is the Wiggin drafted to the orbiting Battle School for rigorous military training.
Speaker for the Dead
In the aftermath of his terrible war, Ender Wiggin disappeared, and a powerful voice arose: The Speaker for the Dead, who told the true story of the Bugger War. Now, long years later, a second alien race has been discovered, but again the aliens' ways are strange and frightening...again, humans die. And it is only the Speaker for the Dead, who is also Ender Wiggin the Xenocide, who has the courage to confront the mystery...and the truth.
Xenocide
The war for survival of the planet Lusitania will be fought in the hearts of a child named Gloriously Bright. On Lusitania, Ender found a world where humans and Pequeninos and the Hive Queen could all live together; where three very different intelligent species could find common ground at last. Or so he thought.
Children of the Mind
The planet Lusitania is home to three sentient species: the Pequeninos; a large colony of humans; and the Hive Queen, brought there by Ender. But once against the human race has grown fearful; the Starways Congress has gathered a fleet to destroy Lusitania.