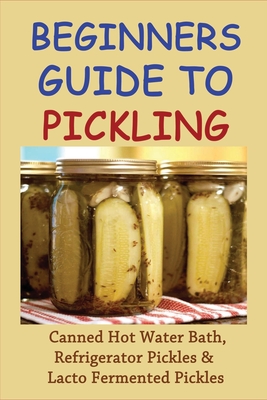 Beginners Guide To Pickling: Canned Hot Water Bath, Refrigerator Pickles & Lacto Fermented Pickles: How To Water Bath Can Pickles
Paperback
ISBN13:
9798523331794
Publisher:
Independently Published
Published:
Jun 19 2021
Pages:
44
Weight:
0.17
Height:
0.11
Width:
5.98
Depth:
9.02
Language:
English
Pickles taste amazing! You can pickle pretty much any veggie, not just cucumbers: tomatillos, carrots, okra, beets, peppers, turnips, avocado. So grab some veggies, vinegar, a few spices and follow our tips for successful making homemade pickles!
Whether it is the fresh, crisp flavor you are after or if you are interested in not only the taste, but many health benefits of lacto fermented pickles, this book covers them all with a description and instructions for canned hot water bath pickles, refrigerator pickles and lacto fermented pickles as well, along with great, flavorful recipes for each. This book keeps it traditional, but is also pushes the envelope a little with some fresh takes on pickling flavors.
Also in
Canning & Preserving