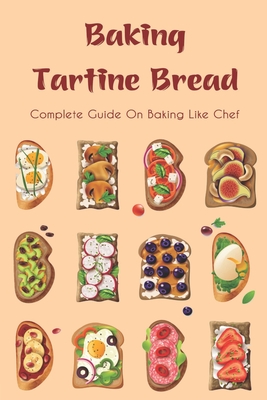 Baking Tartine Bread: Complete Guide On Baking Like Chef: Tartine Cookbook
Paperback
ISBN13:
9798519379717
Publisher:
Independently Published
Published:
Jun 12 2021
Pages:
48
Weight:
0.18
Height:
0.11
Width:
5.98
Depth:
9.02
Language:
English
A tartine is a fancy French open-faced sandwich topped with spreadable ingredients. If you need a visual, think of the ever-popular avocado toast, which is probably the most common tartine eaten these days.
This book will show you:
-Discover and master what tartine is known for so every baking experience turns out to be the kind that makes you want to tap yourself in the back! From world-class pizzas to Instagramable breads and much more, this book is sure to turn your passion for baking into something else, quite literally, given that you will make breads and pizzas that are perfectly crispy on the outside and succulently soft and supple on the inside to make every serving one that makes you giggle from ear to ear!
-Discover how to make levain starter with just water and flour and perfect the art of making all kinds of dough, whether you are making pizza stone, croissant, pie and much more.
-Discover how to make the most of different baker's percentages, adjust ingredient ratios to give different results and leverage the power of tips and tricks that will make you perfect your craft!