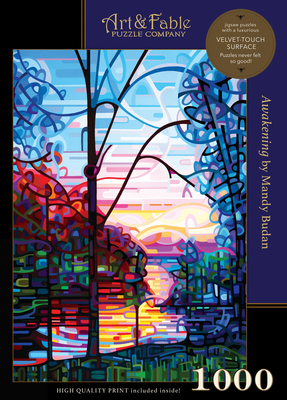 Awakening: 1000 Piece Jigsaw Puzzle [With Print]
Other
Currently unavailable to order
ISBN13:
0850006234165
Publisher:
Art & Fable Puzzle Co Llc
Published:
Jun 23 2020
Weight:
2.11
Height:
2.00
Width:
9.40
Depth:
12.90
Language:
English
Awakening is a 1000-piece, Velvet-Touch puzzle, featuring the artwork of Canadian artist, Mandy Budan. While painting these abstract landscapes, Budan rearranges the elements of nature. She uses strong color, discrete shapes and rhythmic patterns to reveal the beauty of nature in unexpected ways.
The Art & Fable printing process produces richly colored puzzle pieces with a soft, velvety feel, and absolutely no distracting puzzle glare. Looking beyond the beautifully designed and reasonably sized box, each puzzle contains 3 bonus features. First, is a sturdy, Velvet-Touch print, suitable for framing. The print provides maximum enjoyment of the artwork during puzzling, and long after. Second, we provide a very handy box-top stand. And third, we include a closable bag to prevent lost pieces.
Donations from the sale of this puzzle will go to Ontario Shores Centre for Mental Health.