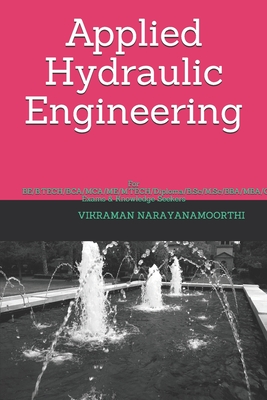 Applied Hydraulic Engineering: For BE/B.TECH/BCA/MCA/ME/M.TECH/Diploma/B.Sc/M.Sc/BBA/MBA/Competitive Exams & Knowledge Seekers
Paperback
Currently unavailable to order
ISBN13:
9798519304351
Publisher:
Independently Published
Published:
Jun 12 2021
Pages:
86
Weight:
0.28
Height:
0.18
Width:
6.00
Depth:
9.00
Language:
English
An open channel is a passage in which liquid flows with a free surface, open channel flow has uniform atmospheric pressure exerted on its surface and is produced under the action of fluid weight. It is more difficult to analyze open channel flow due to its free surface. Flow is an open channel is essentially governed by Gravity force apart from inertia and viscous forces.

Natural: Open channels are streams, rivers, estuaries, etc. Such channels are irregular in shape, alignment and surface roughness.
Artificial open channels are built for some specific purpose, such as irrigation, water supply, water power development etc. Such channels are regular in shape and alignment. Surface roughness is also uniform.....................



This book has been written for the Medical/Pharmacy/Nursing/ME/M.TECH/BE/B.Tech students of All University with latest syllabus for ECE, EEE, CSE, IT, Mechanical, Bio Medical, Bio Tech, BCA, MCA and All B.Sc Department Students.
The basic aim of this book is to provide a basic knowledge in Applied Hydraulic Engineering.
Applied Hydraulic Engineering Syllabus students of degree, diploma & AMIE courses and a useful reference for these preparing for competitive examinations.

All the concepts are explained in a simple, clear and complete manner to achieve progressive learning.
This book is divided into five chapters. Each chapter is well supported with the necessary illustration practical examples.

Also in
Technology & Engineering