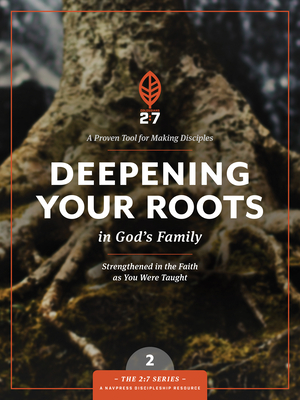 ISBN10:
1615216383
ISBN13:
9781615216383
Publisher:
Nav Pr
Published:
Dec 3 2019
Pages:
160
Weight:
0.70
Height:
0.40
Width:
7.40
Depth:
9.90
Language:
English
Over 500,000 Sold in Series!
Dig into Scripture to deepen your relationships with God and others. Watch the seeds of prayer and evangelism begin to take root in you. You'll nurture these practices in your daily life as you work through the Bible studies and training materials in
Deepening Your Roots in God's Family
. Combined with the skills you learned in book one of The 2:7 Series, you'll see prayer and evangelism begin to bear fruit for you and the relationships in your life.
What is The 2:7 Series?
The 2:7 Series is discipleship training with a proven track record. Each installment leads participants through the fundamentals of discipleship to strengthen your walk with God.
Book One: Growing Strong in God's Family
Book Two: Deepening Your Roots in God's Family
Book Three: Bearing Fruit in God's Family
Biblically rooted and practically focused, The 2:7 Series develops disciples who experience long-term, life-changing results. Each book includes:
Bible studies to ground your faith
Bible reading practices to foster consistent habits
Helpful illustrations to inform your outlook
In-depth teaching on evangelism and prayer to grow a vibrant faith
Scripture memory guides to make God's Word your own