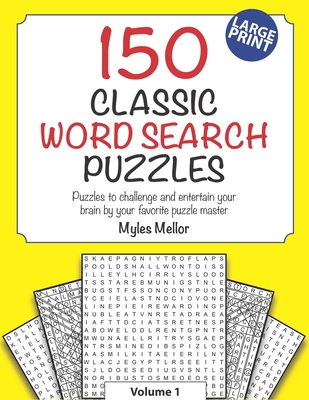 150 Classic Word Search Puzzles: Puzzles to challenge and entertain your brain by your favorite puzzle master, Myles Mellor!
Paperback
Series: Classic Word Search, Book 1
ISBN13:
9798656149198
Published:
Jun 8 2020
Pages:
180
Weight:
0.95
Height:
0.38
Width:
8.50
Depth:
11.02
Language:
English
A collection of 150 word search puzzles, with at least 80 words per puzzle! Plus, each puzzle includes a hidden word made up of the leftover letters! All from Myles Mellor, one of the most published crossword writers of all time, with over 15,000 published crosswords and puzzles to date. Myles Mellor has been published in major newspapers and syndicates in the US and abroad, including Tribune Media Services, the Wall Street Journal, Los Angeles Times, the Chicago Tribune, and The Guardian in England. He has written for IBM, Discovery, NASA, History Channel, and hundreds more. With over 45 crossword and puzzle books published through Barnes and Noble, Simon and Schuster, Books-a-Million, and Costco, Myles has delighted, stumped, and intrigued readers of over 1000 different newspapers and magazines. Myles has joined forces with award-winning designer, Reed Rotondo, to design and publish a new line of puzzle books created just for you.