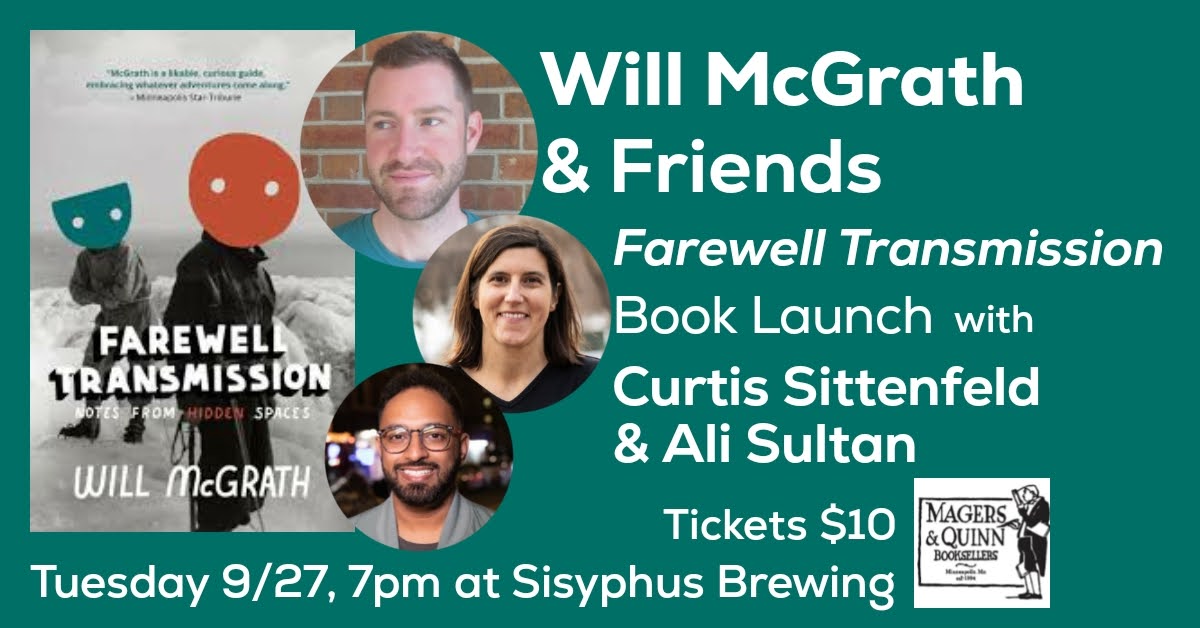 Will McGrath & Friends present the Farewell Transmission Book Launch
Tuesday, September 27, 7:00 PM
Off-Site Event - $10 - $26.95
Buy Tickets
Join author Will McGrath and friends for a variety show-style book launch party! Featuring Ali Sultan and Curtis Sittenfeld.
Doors open at 6:45pm.
$5 from each ticket sale will benefit the Minnesota Prison Writing Workshop!
Ticket options:
$10 Admission only
$26.95 Copy of Farewell Transmission + admission (Please note that this option must be purchased at least 24 hrs ahead of the event.)
Taxes & fees applied to final ticket prices at checkout.
In Farewell Transmission, Will McGrath guides us on a rambling quest into the enlightenment of other lives. Funny and heartbreaking, intimate and galvanizing, these essays venture from Yemen to Lesotho to the Bronx and beyond. We find Caravaggio at an Arizona homeless shelter and meet Elvis in rural Canada. We encounter diamond miners and professional wrestlers, night watchmen and righteous ex-cons—those wilderness prophets too frequently cropped from the picture.
This is a book of hiddenness: of secret lives and ghost stories and obscure passions. Whether he's unraveling the fraught history of a noose in Namibia or wandering the Driftless Area with a modern-day goatherd, McGrath is on an excavation into landscapes rarely seen. Like Leslie Jamison's The Empathy Exams and John Jeremiah Sullivan's Pulphead, these essays pulse with electric prose and vivid characters, seeking out the invisible forces that bind us across our wondrous and troubling planet.
Farewell Transmission is a book about paying attention: to the concealed lives we encounter every day, and to the hidden worlds that exist within our own.
Will McGrath has worked as a reporter, homeless shelter caseworker, public radio producer, UPS truck loader, Burger King chicken sandwich mayo-applicator, ghostwriter, and ghosteditor, in slightly different order. His debut book, Everything Lost Is Found Again, won the Society of Midland Authors Award for Biography & Memoir, and he has written for The Atlantic, Pacific Standard, The Rumpus, Guernica, and other publications. His writing has been translated into Chinese, Hungarian, and Japanese.
Curtis Sittenfeld is the bestselling author of six novels: Prep, The Man of My Dreams, American Wife, Sisterland, Eligible, and Rodham. Her first story collection, You Think It, I'll Say It, was published in 2018 and picked for Reese Witherspoon's Book Club. Her books have been selected by The New York Times, Time, Entertainment Weekly, and People for their "Ten Best Books of the Year" lists, optioned for television and film, and translated into thirty languages.
Ali Sultan saw his first stand up comedian when he moved to America from Yemen at the age of 15. He grew the desire to go on stage but first he needed to learn English. Ali became the first Yemeni American to make a stand up television network debut on The Late Show with Stephen Colbert. Ali has been on Comedy Central's Hart of The City with Kevin Hart. He filmed his Half Hour comedy special in Dubai for Comedy Central Arabia. He represented Minnesota and won the Best in The Midwest competition at Gildas LaughFest. His album Happy to Be Here and Funny First can be heard on Spotify, Sirius XM and has over 1 millions streams on Pandora. His last special can be seen on DRYBAR.