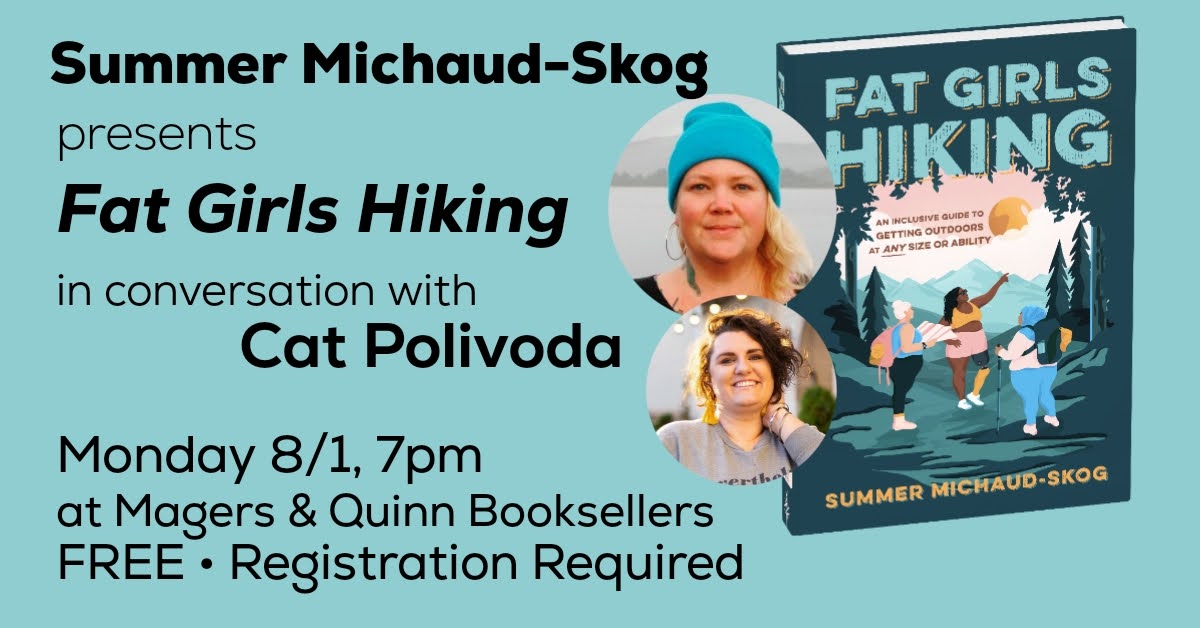 Summer Michaud-Skog presents Fat Girls Hiking
Monday, August 1, 7:00 PM
In-Store Event - Registration Required
Register Now
This event (originally 5/12) has officially been rescheduled for August 1!
From the founder of the Fat Girls Hiking community, this inclusive and inspiring guide to the great outdoors will inspire people of all body types, sizes, abilties, and backgrounds.
In a book brimming with heartfelt stories, practical advice, personal profiles of Fat Girls Hiking community members, and helpful trail reviews, Summer Michaud-Skog creates space for marginalized bodies with an insistent conviction that outdoor recreation should welcome everyone. Whether you're an experienced or aspiring hiker, you'll be empowered to hit the trails and find yourself in nature. Trails not scales!
"Summer Michaud-Skog introduced me to an entirely new way of thinking about outdoor recreational culture; she encouraged me to take up space and honor my needs in ways that I had never been exposed to before. She has created a revolutionary community in Fat Girls Hiking and I am so excited that you are holding this book, about to receive similar gifts." --Layla Cameron, Director, Fat Hiking Club
Summer Michaud-Skog is the founder of Fat Girls Hiking, a hiking community centered on a body positive mission to get folks of diverse backgrounds out on trails no matter their size, ability, or experience level. With more than 24,000 Instagram followers, and 29 (and counting) official chapters across the country, FGH continues to grow by the day. "Trails Not Scales" is their motto, and it's all powered by Summer's grassroots efforts, tireless work ethic, and gregarious, welcoming attitude. Not only is Summer a self-starting leader of a vital community, she also holds a degree in creative writing and is a photographer in her spare time.
Cat Polivoda (pah-lah-voe-duh) owns Cake Plus-Size Resale - a body positive, plus-size thrift shop in Minneapolis, MN. Focused on fostering a shop space and local community centered on radical self love and size-acceptance, she is dedicated to making plus-size fashion more accessible and affordable. With a master's degree in Training & Development and professional experiences working and teaching at colleges and universities, Cat also creates opportunities to speak, train, and consult on a variety of topics including body positivity & fat liberation, plus-size fashion, confidence & self-image, college first year experience, and goal setting/strategizing. Cat co-hosts Matter of Fat - a podcast through KFAI Community Radio.
A note about in person events:
We are very excited to bring authors and readers back together in our space, and we know you are too!
We ask that you use honesty, care, and understanding in interacting with fellow event-goers, staff, and authors.
Please note that Magers & Quinn will always comply with current city and state regulations, and reserves the right to change the below policies at any time. These are guidelines only, and if you have questions about the most up to date information, you can always call us at 612-822-4611.
For information about how our in-person events will work over the coming months, please read on:
Q: Are masks required?
A: Please wear a mask while in the event area and in the signing line, and during the hike, if attending.
For the health and safety of others, we strongly encourage you to wear a mask or face covering.
Q: Are in store events free?
A: Yes, Magers & Quinn events are free and open to the public unless otherwise noted.
Q: Do I need to RSVP?
A: Yes, please. Each event will now include a registration link.
As we navigate this step back to in-person events, we will be limiting event capacity to ensure a safe and comfortable experience for all attendees and authors. By requiring pre-registration, we can easily communicate event updates and policies with those who plan to attend, and can contact attendees after the event with follow-up information.
We strongly suggest registering via the Eventbrite link provided on our website, but if you are unable to sign up online, please call or visit the bookstore and register with a bookseller.
We may or may not be able to accommodate unregistered walk-ins, and seating priority will always be given to registered customers. We appreciate your understanding of this new process!