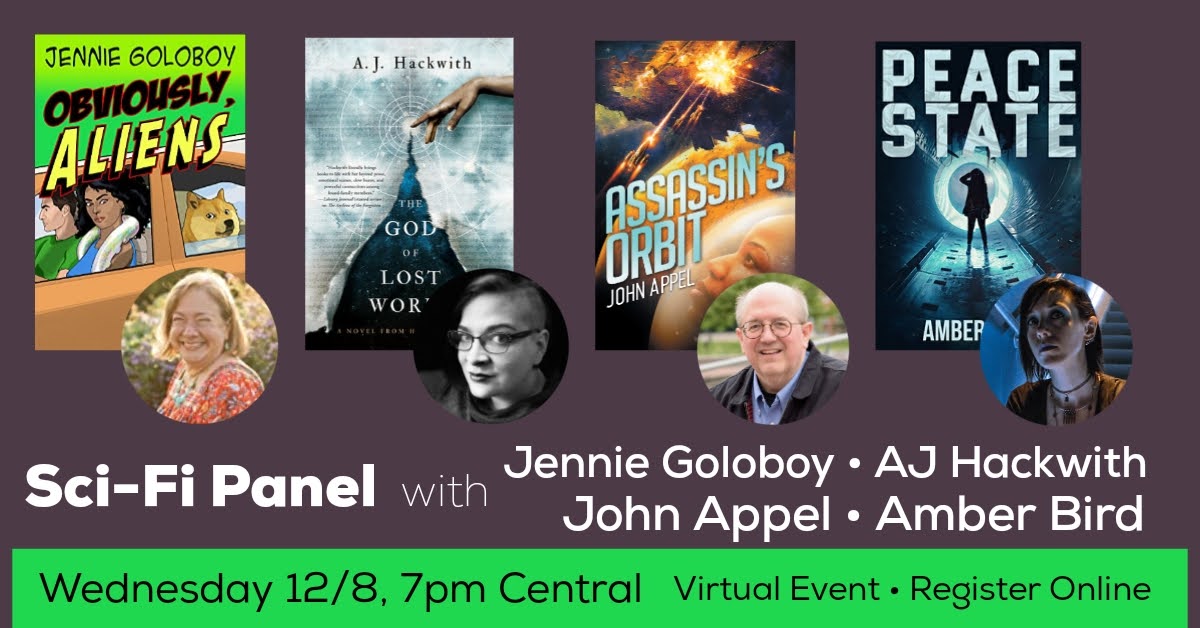 Sci-Fi Panel with Jennie Goloboy, AJ Hackwith, John Appel, and Amber Bird
Wednesday, December 8, 7:00 PM
Virtual Event - Registration Required
Register Now
Sci-Fi Panel with Jennie Goloboy, A.J. Hackwith, John Appel, and Amber Bird
Four Sci-Fi/Fantasy authors discuss their recent releases in this free virtual event!
Obviously Aliens: This is not how anyone expected their day to go…
The aliens are coming! Or are they already here? Dana, Jay, and Adam are about to find out as they embark on a wild and hilarious road trip with body switches, aliens, evil plumbing executives and their minions, government agents, doges, talking corgis, and more as they try to stop the bad guys and save the day.
Jennie Goloboy is an author of speculative fiction and history. She's published short fiction under her own name and her pen name, Nora Fleischer, including a forthcoming short story in Fantasy & Science Fiction Magazine. She's also published a monograph and essays about early American economics and culture. She lives in Minneapolis with her husband and two children, and works as a literary agent.
God of Lost Words: In a heart-felt and revelatory conclusion to the Hell's Library fantasy series, Claire and the unlikely family of the Unwritten Wing have accomplished the impossible by discovering the true nature of unwritten books. But now that the secret is out, in its quest for power Hell will be coming for every wing of the vast Library. In order to save the Library of the Unwritten, Claire and her allies may have to destroy it first.
A.J. Hackwith is a novelist, essayist, and author of the acclaimed Hell's Library fantasy series. She has also written sci-fi romance as Ada Harper, and her work can be found in Uncanny Magazine, Tor.com, and several anthologies. She lives in a particularly cluttered hobbithole in the Pacific Northwest.
Assassin's Orbit: Murder makes unlikely allies.
On the eve of the planet Ileri's historic vote to join the Commonwealth, the assassination of a government minister threatens to shatter everything. Private investigator Noo Okereke and spy Meiko Ogawa join forces with police chief Toiwa to investigate and discover clues that point disturbingly toward a threat humanity thought they had escaped.
John Appel is a long-time information security pro-turned-writer. He's a former US Army paratrooper, historical fencer, rum enthusiast, and a tabletop gamer since the Carter administration. A life-long Marylander, he lives with his awesome wife & two fantastic adult kids in the Baltimore suburbs.
Peace State: After all they've sacrificed and the lines they've crossed to keep the planet from becoming a literal dystopia, Katja and her surviving allies aren't sure they—or the human race—will survive 2050. At least not with their free will intact. Battered and betrayed, they make their plans. But the Peaceforgers have plans of their own and fewer and fewer reasons to hold back. As the list of casualties grows…As the number of invaded minds and infected bodies soars…As the stakes become increasingly grim and the Peaceforgers escalate their attacks…As the very elements and assets she depends on most are turned against her…Katja realizes it might take more than clever code to win this one. It turns out the future actually can get darker. And the facts keep pointing towards one solution. Want to save the light? Hack your humanity. (Peace State is the eagerly anticipated conclusion to the Peaceforgers trilogy.)
Amber Bird is...A writer, a rockstar, and a sci-fi simulacrum...The author of the Peaceforger books (gripping near-future sci-fi), a published poet, the front of post-punk/post-glam band Varnish, and half of transatlantic Autistic musical duo The Companions...An Autistic introvert, an idealist, a geek, and a dreamer who was (and still is) saved by others' art and is trying to return the favor...A lapsed actor and, yes, the model for the Elves of Deep Shadow Magic card. Heeding advice like "write what you know" and "write the book your younger self needed," Amber's current and planned books all have main characters who are Autistic, queer, and women/girls or non-binary. And many of them won't use just violence or STEM-based solutions to resolve everything. (Sci-fi and fantasy give us the opportunity to remember that many kinds of people have something to add and in many different ways.)