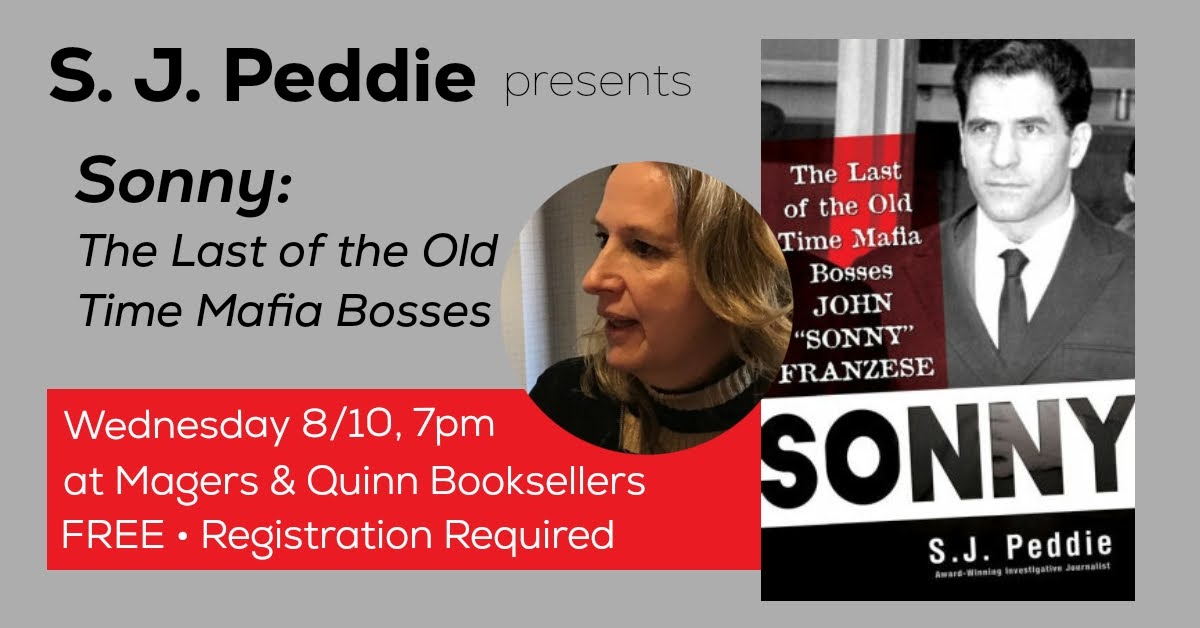 S. J. Peddie presents Sonny: The Last of the Old Time Mafia Bosses
Wednesday, August 10, 7:00 PM
In-Store Event - Free Registration Required
Register Now
Based on exclusive interviews before his death in 2020 at the age of 103, SONNY is the first biography of legendary mob boss, John "Sonny" Franzese. As the underboss of the Colombo crime family, he was respected both by street guys and law enforcement alike. He was an unabashed bad guy, admitting many crimes, but never once violated his oath to the Mafia.
Author Sandra "S.J." Peddie supplemented her interviews by combing through thousands of pages of records and interviewing 130 of Sonny's friends, family members and antagonists. She reveals some shocking secrets:
• FBI Director J. Edgar Hoover's obsession with Sonny
• How he was betrayed by his favorite son
• How Sonny spent years behind bars for a crime he insisted he didn't commit, and still managed to make millions for the mob
• How his attempts to mentor an up-and-comer in the mob helped lead to his downfall
• His glamorous nightlife and the celebrities who loved him
Authorities believed he may have murdered 40-50 people, and undercover tapes showed that he took a particular pride in his work. At the same time, he was capable of kindness. He helped boost the careers of Black singers like Sam Cooke and the Supremes because he always believed in helping underdogs.
Peddie's book offers a unique perspective on life in the Mafia, the life of Sonny Franzese.
Newsday investigative reporter Sandra Peddie has won more than 75 awards for her work, including the $35,000 Selden Ring Award for stories on pension fraud in government that led to changes in New York law.
She was a finalist for the Public Service Pulitzer in 2014 for stories on police misconduct and also was a reporter on Newsday's 1995 Pulitzer Prize-winning police disability fraud series. In 2011, she was named Long Island's Outstanding Journalist of the Year and later was inducted into the Long Island Press Club Hall of Fame. She was won two New York Emmys for documentaries she produced.
She is the author of two books, The Repetitive Strain Injury Sourcebook, published by RGA/Lowell House, and SONNY, The Last of the Old-Time Mafia Bosses, John "Sonny" Franzese, published by Kensington Books.
A native Minnesotan, she misses everything about the state, except the winters.
A note about in person events:
We are very excited to bring authors and readers back together in our space, and we know you are too!
As we all navigate the transition back to congregating in person, we ask that you use honesty, care, and understanding in interacting with fellow event-goers, staff, and authors.
Please note that Magers & Quinn will always comply with current city and state regulations, and reserves the right to change the below policies at any time. These are guidelines only, and if you have questions about the most up to date information, you can always call us at 612-822-4611.
For information about how our in-person events will work over the coming months, please read on:
Q: Are masks required?
A: Please wear a mask while in the event area and in the signing line.
For the health and safety of others, we strongly encourage you to wear a mask or face covering.
Q: Are in store events free?
A: Yes, Magers & Quinn events are free and open to the public unless otherwise noted.
Q: Do I need to RSVP?
A: Yes, please. Each event will now include a registration link.
As we navigate this step back to in-person events, we will be limiting event capacity to ensure a safe and comfortable experience for all attendees and authors. By requiring pre-registration, we can easily communicate event updates and policies with those who plan to attend, and can contact attendees after the event with follow-up information.
We strongly suggest registering via the Eventbrite link provided on our website, but if you are unable to sign up online, please call or visit the bookstore and register with a bookseller.
We may or may not be able to accommodate unregistered walk-ins, and seating priority will always be given to registered customers. We appreciate your understanding of this process!