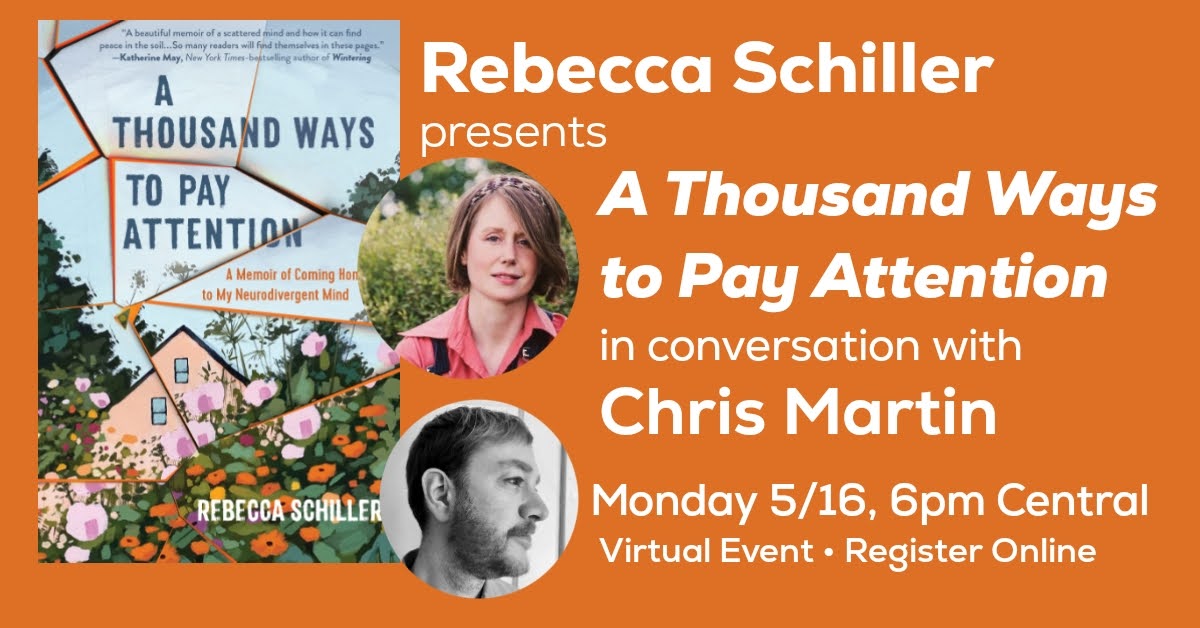 Rebecca Schiller presents A Thousand Ways to Pay Attention
Monday, May 16, 6:00 PM
Virtual Event - Register Through Eventbrite
Register Now
As propulsive as Brain on Fire and as poetically candid as The Collected Schizophrenias, one woman's quest for the truth of her neurodivergent mind
It should have been Rebecca Schiller's dream come true: moving her young family to the English countryside to raise goats and coax their own fruit and vegetables from the land. But, as she writes: The summer of striding out toward a life of open fields and sacks of corn, I brought a confused black hole of something pernicious but not yet acknowledged along for the ride.
Rebecca's health begins to crumble, with bewildering symptoms: frequent falls, uncontrollable rages, and mysterious lapses in memory. As she fights to be seen by a succession of specialists, her fledgling homestead—and her family—hang by increasingly tenuous threads. And when her diagnosis finally comes, it is utterly unexpected: severe ADHD.
In her scramble for answers, Rebecca's consciousness alternately sears with pinpoint focus and spirals with connections. Childhood memories resurface with new meaning, and her daily life entwines with the history of intrepid women who tended this land before her. Her family weathers their growing pains where generations of acorns have fallen to rise again as trees, where ancient wolves and lynx once stalked the shadows.
Written in unsparing, luminous prose, this is an all-absorbing memoir of one woman's newfound neurodivergence—and a clarion call to overturn the narrative that says minds are either normal and good or different and broken.
Rebecca Schiller is cofounder and trustee of the human rights organization Birthrights and a regular contributor to The Guardian. She is also the author of Your No Guilt Pregnancy Plan and the children's book Amazing Activists Who Are Changing Our World. On their small homestead in the English countryside, Rebecca and her family raise a motley crew of goats, geese, ducks, and chickens, and grow vegetables, fruit, and flowers to restore wildlife to the land. She lives in Kent, UK.
Chris Martin is this very moment endeavoring to become himself, a somemany and tilted thinking animal who sways, hags, loves, trees, lights, listens, and arrives. He is a poet who teaches and learns in mutual measure, as the connective hub of Unrestricted Interest/TILT and the curator of Multiverse, a series of neurodivergent writing from Milkweed Editions. His most recent book of poems is Things to Do in Hell (Coffee House, 2020) and his first book of nonfiction, May Tomorrow Be Awake: On Poetry, Autism, and Our Neurodiverse Future, will be published by HarperOne in August of 2022. He lives on the edge of Bde Maka Ska in Minneapolis, among the mulberries, with Mary Austin Speaker and their two bewildering creatures.
Registered customers will receive access link via email prior to the event.