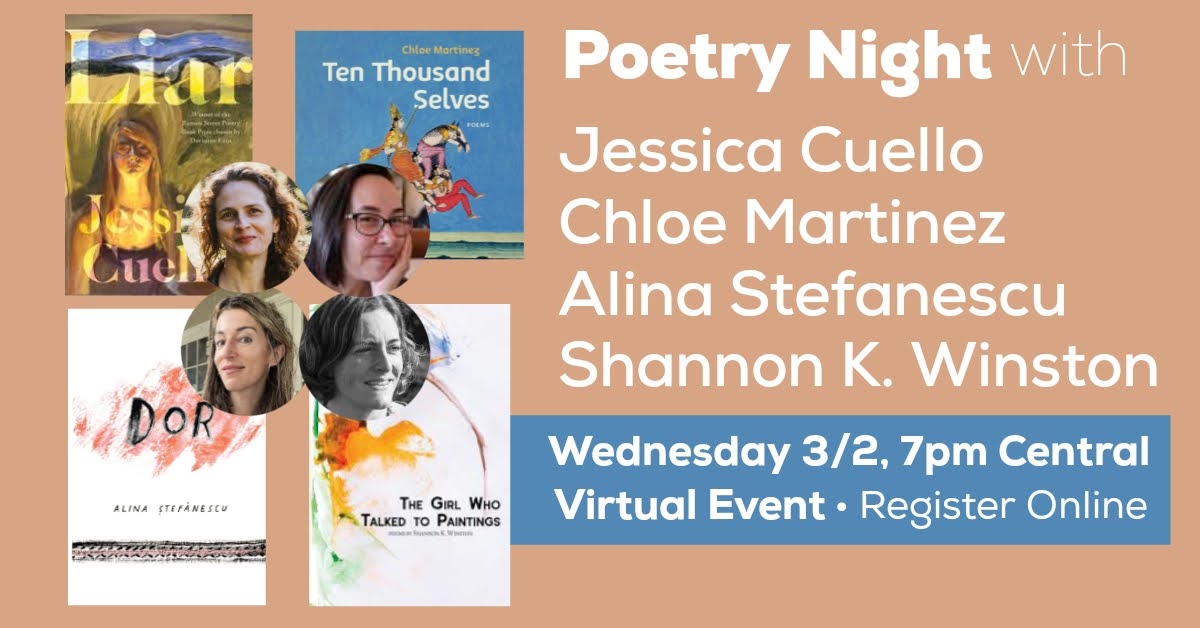 Poetry night with Jessica Cuello, Chloe Martinez, Alina Stefanescu, and Shannon K. Winston
Wednesday, March 2, 7:00 PM
Virtual Event - Register Through Eventbrite
Register Now
Join us for a virtual showcase of four poets' recent work!
Jessica Cuello is the author of Liar, selected by Dorianne Laux for the 2020 Barrow Street Poetry Prize. Her manuscript of epistolary poems in the voice of Mary Shelley, Yours, Creature, is forthcoming from JackLeg Press in 2023.
About Liar: "A highly original vision, voice, concept, style, language and image all working together to produce a world inside our world. Filled with fire and violence, mystery and magic, the loneliness of laundromats, rented houses, suicide, cornfields, hunger, and ultimately a naked raw survival." --Dorianne Laux
---
Chloe Martinez is a poet and a scholar of South Asian religions. She is the author of the collection Ten Thousand Selves (The Word Works, 2021) and the chapbook Corner Shrine (Backbone Press, 2020). Her poems have appeared in Ploughshares, Prairie Schooner, The Common, Shenandoah and elsewhere. She works at Claremont McKenna College. See more at www.chloeAVmartinez.com.
About Ten Thousand Selves: Ten Thousand Selves explores identity as refracted through family, religion, and place, and situates us in the midst of life's messiness. Drawing on the Tibetan mandala, Mughal memoirs, visual art, online shopping reviews, and a series of text messages from strangers, these poems meditate on gender, power, and motherhood. They ask who, in all our multiplicity, we are, and who we might become.
---
Alina Stefanescu was born in Romania and lives in Birmingham, Alabama with her partner and several intense mammals. Recent books include a creative nonfiction chapbook, Ribald (Bull City Press Inch Series, Nov. 2020) and Dor, which won the Wandering Aengus Press Prize (September, 2021). Her debut fiction collection, Every Mask I Tried On, won the Brighthorse Books Prize (April 2018). Alina's poems, essays, and fiction can be found in Prairie Schooner, North American Review, World Literature Today, Pleiades, Poetry, BOMB, Crab Creek Review, and others. She serves as poetry editor for several journals, reviewer and critic for others, and Co-Director of PEN America's Birmingham Chapter. She is currently working on a novel-like creature. More online at www.alinastefanescuwriter.com.
About Dor: Alina Ștefănescu's DOR is a compendium of desire, displacement, longing, and belonging. While the word "dor" itself "serves as a bridge which creates its own territory from fusion," here Stefanescu's words do their own act of bridging the spaces between the body and language. In these poems, tongues, like nations, have borders; nouns and verbs come alive with ownership and agency. Stefanescu writes "a good girl poem waits // for the bass." but these are not good girl poems. — Emily Holland, author of Lineage and editor of Poet Lore
---
Shannon K. Winston's book, The Girl Who Talked to Paintings, was published in 2021 by Glass Lyre Press. Her individual poems have appeared in RHINO Poetry, Crab Creek Review, The Citron Review, the Los Angeles Review, and elsewhere. She holds an MFA from Warren Wilson College and a PhD from the University of Michigan. She lives in Princeton, New Jersey.
About The Girl Who Talks to Paintings: An ekphrastic collection that conceives of ekphrasis as a type of translation: as a movement between images and words, as well as between lived and imagined experiences. These poems dramatize visual art personas who come alive and become confidants for speakers who are too timid to express themselves otherwise. Artwork becomes an entry point and a catalyst for self-exploration and self-discovery. At its core, The Girl Who Talks to Paintings explores many intertwined themes, including gender and sexuality, family, loss, and language.
Registered customers will receive event access link via email prior to the event.