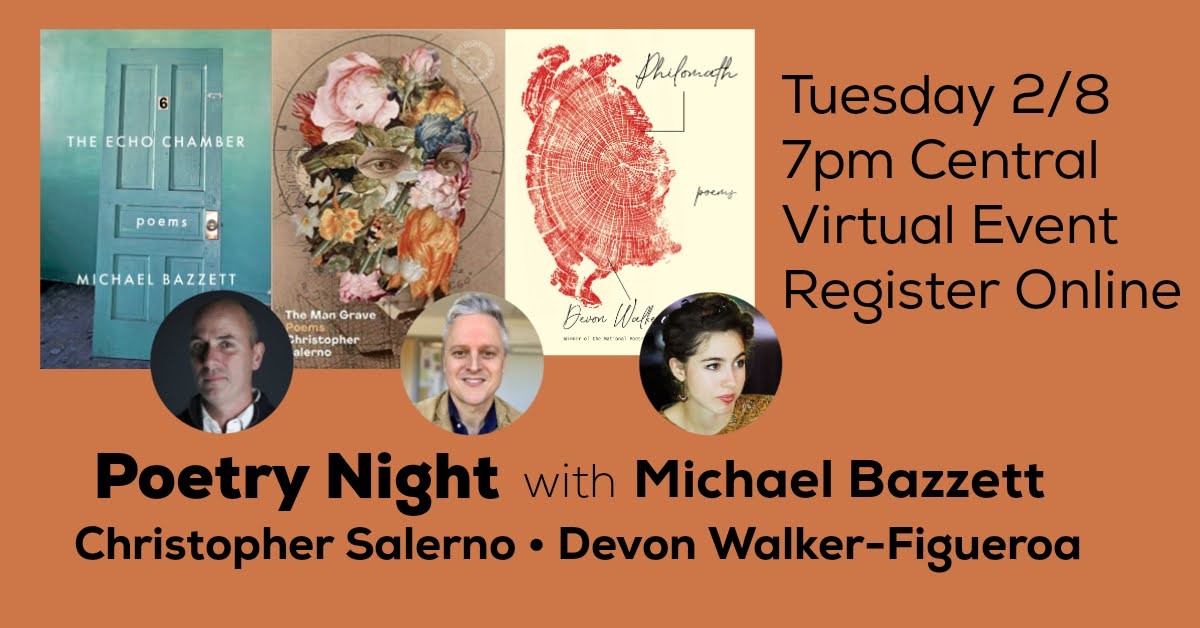 Poetry Night with Michael Bazzett, Christopher Salerno, and Devon Walker-Figueroa
Tuesday, February 8, 7:00 PM
Virtual Event - Registration Required
Register Now
Join us for a virtual showcase of three poets' recent work!
"Narcissus was never one to see himself // in moving water. // He liked his image / still." In The Echo Chamber, myth is refracted into our current moment. A time traveler teaches a needleworker the pleasures of social media gratification. A man goes looking for his face and is first offered a latex mask.. A book reveals eerie transmutations of a simple story. And the myth itself is retold, probing its most provocative qualities—how reflective waters enable self-absorption, the tragic rightness of Echo and Narcissus as a couple.
The Echo Chamber examines our endlessly self-referential age of selfies and televised wars and manufactured celebrity, gazing lingeringly into the many kinds of damage it produces, and the truths obscured beneath its polished surface. In the process, Bazzett cements his status as one of our great poetic fools—the comedian who delivers uncomfortable silence, who sheds layers of disguises to reveal light underneath, who smuggles wisdom within "rage-mothered laughter." Late-stage capitalism, history, death itself: all are subject to his wry, tender gaze.
By turns searing, compassionate, and darkly humorous, The Echo Chamber creates an echo through time, holding up the broken mirror of myth to our present-day selves.
Michael Bazzett is the author of four collections of poetry, most recently The Echo Chamber, (Milkweed, 2021). A recipient of awards from the Frost Place and the NEA, his poems have appeared in The American Poetry Review, Tin House, The Threepenny Review, The Sun, The Nation, and Granta. His verse translation of the Mayan creation epic, The Popol Vuh, (Milkweed, 2018) was named one of 2018's best books of poetry by the NY Times.
---
Winner of the 2020 Lexi Rudnitski Editor's Choice Award, The Man Grave portrays the corrosiveness, violence, and loneliness of all-too-familiar strains of American masculinity. In perceptive and moving poems, Christopher Salerno explores patriarchy, boyhood, lust, misogyny and homophobia, infertility, and family in an effort to diagnose—and remedy—inherited patterns of manliness. "Have I / made it any further than my father / in his laughter, before his slaughter?" Salerno writes. His new collection is a moving and generous answer.
Christopher Salerno is the author of five books of poetry. His most recent book, "The Man Grave," won the Lexi Rudnitsky Award from Persea Books. Previous books include "Sun & Urn" (UGA Poetry Prize), "ATM" (Georgetown Poetry Prize), "Minimum Heroic" (Mississippi Review Poetry Prize), and "Whirligig". His work have received the Glenna Luschei Award from Prairie Schooner, The Founders Prize from RHINO Magazine, the Two Sylvias Press Chapbook Award, the Laurel Review Chapbook Prize, and a New Jersey State Council on the Arts fellowship. His poems have appeared in New York Times Magazine, New Republic, American Poetry Review, New England Review, and elsewhere. He serves as Professor of Creative Writing at William Paterson University in New Jersey.
---
With Devon Walker-Figueroa as our Virgil, we begin in the collection's eponymous town of Philomath, Oregon. We drift through the general store, into the Nazarene Church, past people plucking at the brambles of a place that won't let them go. We move beyond the town into fields and farmland—and further still, along highways, into a cursed Californian town, a museum in Florence. We wander with a kind of animal logic, like a beast with "a mind to get loose / from a valley fallowing / towards foul," through the tense, overlapping space between movement and stillness.
An explorer at the edge of the sublime, Walker-Figueroa writes in quiet awe of nature, of memory, and of a beauty that is "merely existence carrying on and carrying on." In her wanderings, she guides readers toward a kind of witness that doesn't flinch from the bleak or bizarre: A vineyard engulfed in flames is reclaimed by the fields. A sow smothers its young, then bears more. A neighbor chews locusts in his yard.
Devon Walker-Figueroa is the author of Philomath, selected for the 2020 National Poetry Series by Sally Keith. She is a writer, editor, and erstwhile professional ballet dancer who grew up in Kings Valley (a ghost town in the Oregon Coast Range). A graduate of the Iowa Writers' Workshop and the 2018 recipient of New England Review's Emerging Writer Award, Walker-Figueroa has published poems in such journals as the American Poetry Review, The Nation, POETRY, Lana Turner, The Harvard Advocate, Ploughshares, and the New England Review. Devon is currently enrolled in NYU's fiction MFA, teaches writing courses at Saint Joseph's College in Brooklyn, and serves as the co-founding editor of Horsethief Books.