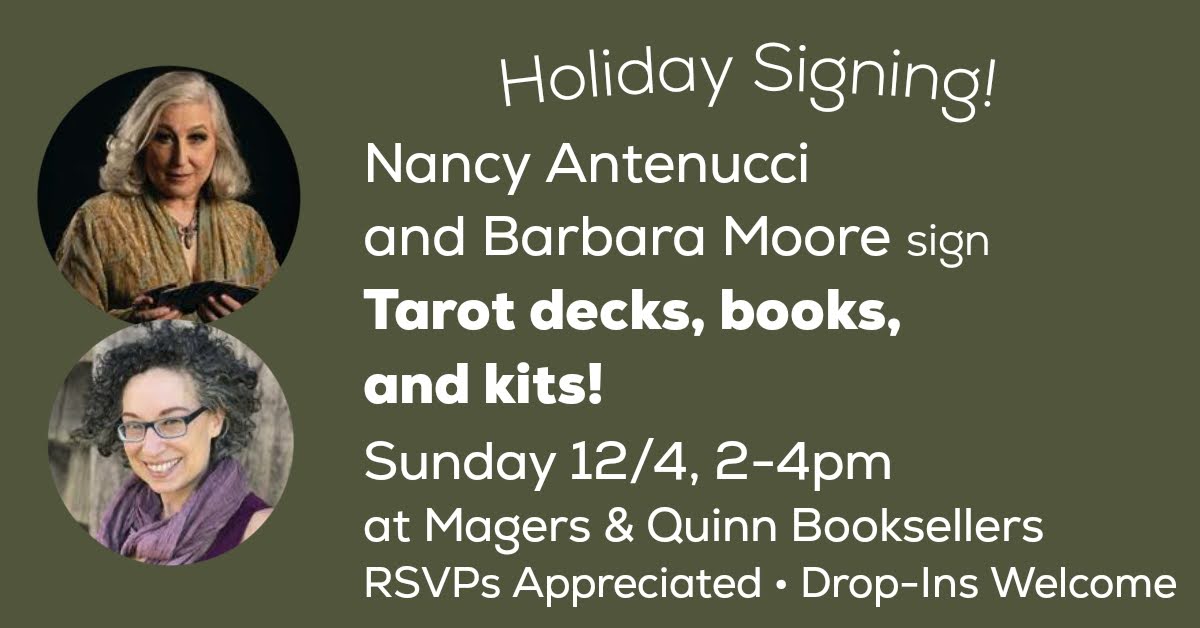 Nancy Antenucci and Barbara Moore sign Tarot decks, books, and kits!
Sunday, December 4, 2:00 PM
In-Store Event - RSVPs Appreciated, Walk-Ins Welcome
RSVP
Please join Llewellyn Publications and Magers & Quinn Booksellers for a book signing on December 4th from 2:00 PM to 4:00 PM. Several books, Tarot Decks, and kits (decks with book sets) will be featured at this special event. Pick up the perfect gift for your favorite Tarot enthusiast – or for yourself!
For this special signing event, we appreciate RSVPs to help us gauge interest and estimate book quantity needs, but anyone is welcome to swing by! Click the register button to help us out.
About the authors:
Nancy C. Antenucci (Nucc) is a seasoned tarot reader as well as a teacher of visionary strategies. Her innovative take on tarot makes her a highly sought-after teacher and presenter around the country and internationally. Her first book, Psychic Tarot, is a culmination of her teaching and mentoring, practical know-how, and unending passion for tarot. Nucc is the founder of Minnesota's Twin Cities Tarot Collective, which produces the annual North Star Tarot conference. For more information, go to www.betweenworlds.us.
Barbara Moore- About 30 years ago someone put a tarot deck in Barbara's hands. She's held on tight ever since, letting the cards reveal their wisdom. When not pondering the secrets of tarot, Barbara writes books, designs decks, and teaches all over the world. She's been Llewellyn's tarot acquisitions editor for over 25 years. Some of her favorite projects include Llewellyn's Little Book of Tarot, Modern Guide to Energy Clearing, Steampunk Tarot, Tarot Spreads, Llewellyn's Tarot Calendar (since 2018), and the new Trick or Treat Tarot (2022). Barbara lives in St. Paul, MN with her wife, Dylan. Connect with her through her website: http://www.tarotshaman.com
A note about in person events:
We are very excited to bring authors and readers back together in our space, and we know you are too!
As we all navigate the transition back to congregating in person, we ask that you use honesty, care, and understanding in interacting with fellow event-goers, staff, and authors.
Please note that Magers & Quinn will always comply with current city and state regulations, and reserves the right to change the below policies at any time. These are guidelines only, and if you have questions about the most up to date information, you can always call us at 612-822-4611.
For information about how our in-person events will work over the coming months, please read on:
Q: Are masks required?
A: Masks are not currently required in our building, but are highly recommended.
For the health and safety of others, we strongly encourage you to wear a mask, especially if not fully vaccinated for COVID-19.
Q: Are in store events free?
A: Yes, Magers & Quinn events are free and open to the public unless otherwise noted.
Q: Do I need to RSVP?
A: For this special event, we appreciate RSVPs to help us gauge interest and estimate book quantity needs, but anyone is welcome to swing by!