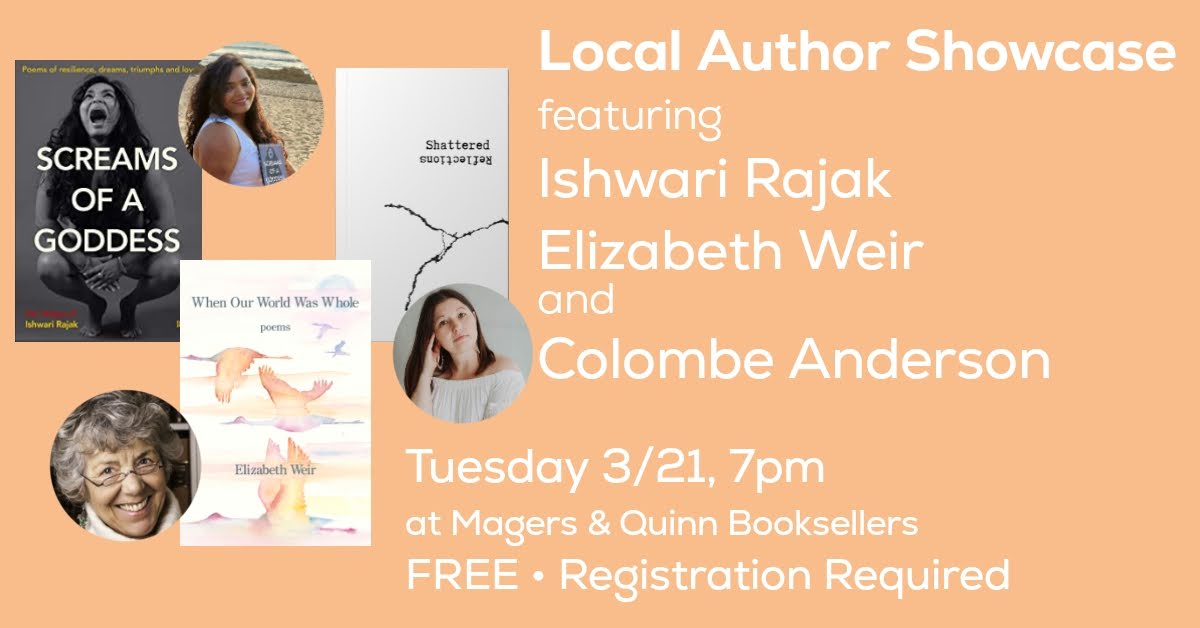 Local Author Showcase
Tuesday, March 21, 7:00 PM
In-Store Event - Registration Required
Register Now
Ishwari's book, Screams of a Goddess reflects her childhood and personal life experiences and explores her intersecting identities as a woman, an immigrant and a South Asian. She credits her parent's desire and relentless effort to educate and raise their daughters outside the norm as a main source of inspiration for her works. Screams of a Goddess is divided in four chapters and each shares experiences of many relationships and roles which brought joy, happiness, sadness, abuse, violence, love and connection with the higher energy, the universe.
When Our World Was Whole is a collection of 65 accessible poems written from life, including a post-war, English childhood, immigration, a glance at patriarchy, humor and the wonders and fragility of the natural world.
Shattered Reflections is a book of poetry that has a selection of poems written from age 15-40. The poems are a memoir in poem form discussing topics such as feeling insecure, abuse, loss, rape, love, marriage, child birth, and finding contentment
Ishwari Rajak is an entrepreneur, author, cooking class instructor and a chocolatier. Ishwari moved from Nepal to Minnesota and currently lives in Northeast Minneapolis. Ishwari teaches to cook Nepali food and sells products inspired by her Nepali heritage, some of her popular products are her signature chocolates, Lemon and Lime Achar (Chutney) and Himalayan Sriracha.
Elizabeth Weir's first book, High on Table Mountain was nominated for the 2017 Midwest Book Award. Her second book, When Our World Was Whole, is published by Kesay Press. Recent poetry has been published in Comstock Review, Evening Street Review, Gyroscope, North Meridian Review, and Adanna.
Colombe Anderson is a local poet from northern MN. She has been writing poetry for over 25 years. This is her first published book. Colombe is mother of 2, worked in childcare and early education for 23 years and is now a Yoga instructor. She loves buying and reading books, hiking, gardening, and camping in her 1984 VW camper van, Winnie.
A note about in person events:
We are very excited to bring authors and readers back together in our space, and we know you are too!
As we all navigate the transition back to congregating in person, we ask that you use honesty, care, and understanding in interacting with fellow event-goers, staff, and authors.
Please note that Magers & Quinn will always comply with current city and state regulations, and reserves the right to change the below policies at any time. These are guidelines only, and if you have questions about the most up to date information, you can always call us at 612-822-4611.
For information about how our in-person events work, please read on:
Q: Are masks required?
A: Masks are not required to browse in the store. However, we strongly encourage masking while seated in the event area and waiting in the signing line.
For the health and safety of others, we strongly encourage you to wear a mask or face covering, especially for longer visits to the store such as events.
Q: Are in store events free?
A: Yes, Magers & Quinn events are free and open to the public unless otherwise noted.
Q: Do I need to RSVP?
A: Yes, please. Each event will now include a registration link.
As we navigate this step back to in-person events, we will be limiting event capacity to ensure a safe and comfortable experience for all attendees and authors. By requiring pre-registration, we can easily communicate event updates and policies with those who plan to attend, and can contact attendees after the event with follow-up information.
We strongly suggest registering via the Eventbrite link provided on our website, but if you are unable to sign up online, please call or visit the bookstore and register with a bookseller.
We may or may not be able to accommodate unregistered walk-ins, and seating priority will always be given to registered customers. We appreciate your understanding of this process!