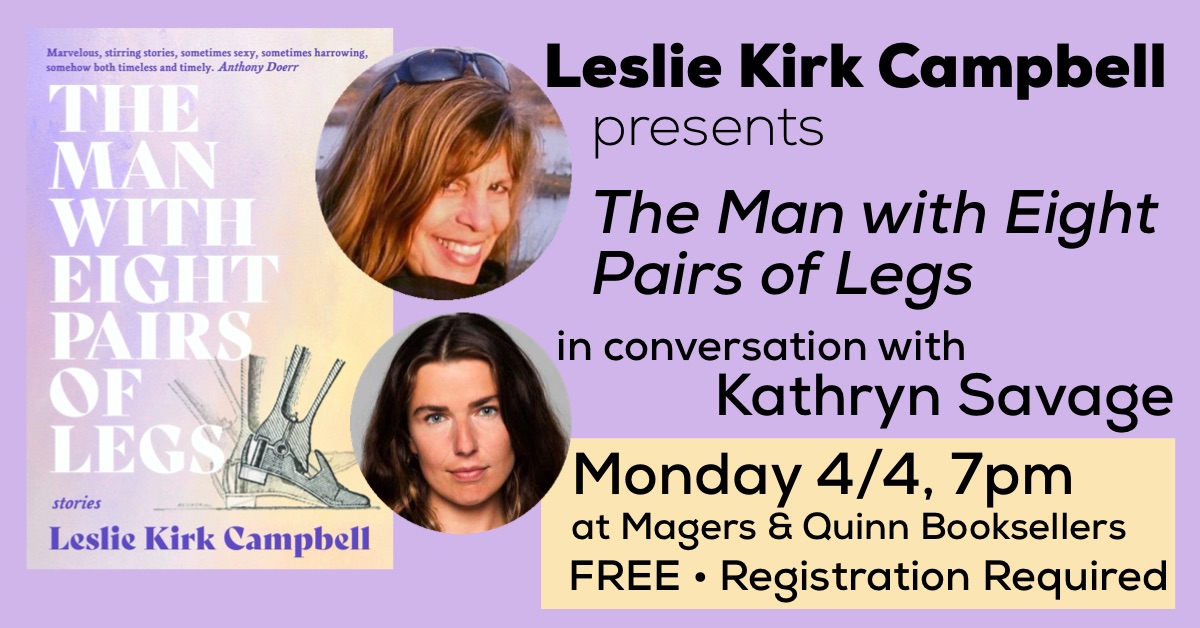 Leslie Kirk Campbell presents The Man with Eight Pairs of Legs
Monday, April 4, 7:00 PM
In-Store Event - Registration Required
Register Now
Author Leslie Kirk Campbell discusses her short story collection The Man with Eight Pairs of Legs with Kathryn Savage
About the book:
At its core, the book is about body-memory, the way we hold our pasts on our skin, visibly – bruises, scars, tracks, tattoos – and invisibly, over generations. Three of the eight stories focus on women's bodies, and the violation of women's bodies; in a fourth, "Triptych," we go back to the early 80s and the AIDS epidemic in a story about an artist/single mother and her dying neighbor; in a fifth, "Tasmanians," an Armenian-American woman tries to separate from the suffering she has inherited from her father and grandmother as well as a slew of relatives she has never known.
These stories take place in a range of settings: from a small town in Colorado to Bangkok, from Illinois to the Rheinhessen and tell the stories of men and women from a variety of backgrounds: a young opera singer, a high school history teacher, an engineer, a painter, a monk, all longing for something they are willing to court danger to find.
PRAISE FOR THE MAN WITH EIGHT PAIRS OF LEGS:
Marvelous…sexy…harrowing.—Anthony Doerr, author of All the Light We Cannot See & Cloud Cuckoo Land
Compelling…unpredictable….vibrant and vital…a memorable force.—Stuart Dybek, Ecstatic Cahoots: Fifty Short Stories
Hypnotic, strange, and lovely.—Michelle Wildgen, Tin House
Engaging…surprising…poignant.—Publishers Weekly
A meaningful and utterly devastating collection…cements Campbell as a leading short story writer. —BuzzFeed
Leslie Kirk Campbell's debut short story collection, The Man with Eight Pairs of Legs (Sarabande Books) won the 2020 Mary McCarthy Prize for Short Fiction. Ploughshares published the title story in 2021. Her award-winning stories have appeared in Arts & Letters, Briar Cliff Review, Southern Indiana Review and The Thomas Wolfe Review. She has received fellowships at Playa and Ucross. The author of Journey into Motherhood (Riverhead), she currently splits her time between her ohana in Honolulu and her ohana in San Francisco, where she teaches at Ripe Fruit Writing, a creative writing program she founded in 1991. Her next collection, Free Radicals, is in the making.
Kathryn Savage's debut lyric essay collection, Groundglass, is forthcoming from Coffee House Press (2022). Her other writing has appeared or is forthcoming in American Short Fiction, BOMB Magazine, Ecotone Magazine, the Virginia Quarterly Review, and the anthology, Rewilding: Poems for the Environment. Recipient of the James Wright Prize from the Academy of American Poets, her work has been supported by fellowships and residencies from the Bread Loaf Writers' Conference, Minnesota State Arts Board, Ucross Foundation, and Tulsa Artist Fellowship. She lives with her family in Minneapolis, and teaches creative writing at The Minneapolis College of Art and Design.
A note about in person events:
We are very excited to bring authors and readers back together in our space, and we know you are too!
As we all navigate the transition back to congregating in person, we ask that you use honesty, care, and understanding in interacting with fellow event-goers, staff, and authors.
Please note that Magers & Quinn will always comply with current city and state regulations, and reserves the right to change the below policies at any time. These are guidelines only, and if you have questions about the most up to date information, you can always call us at 612-822-4611.
For information about how our in-person events will work over the coming months, please read on:
Q: Are masks required?
A: Please wear a mask while in the event area and in the signing line.
For the health and safety of others, we strongly encourage you to wear a mask or face covering.
Q: Are in store events free?
A: Yes, Magers & Quinn events are free and open to the public unless otherwise noted.
Q: Do I need to RSVP?
A: Yes, please. Each event will now include a registration link.
As we navigate this step back to in-person events, we will be limiting event capacity to ensure a safe and comfortable experience for all attendees and authors. By requiring pre-registration, we can easily communicate event updates and policies with those who plan to attend, and can contact attendees after the event with follow-up information.
We strongly suggest registering via the Eventbrite link provided on our website, but if you are unable to sign up online, please call or visit the bookstore and register with a bookseller.
We may or may not be able to accommodate unregistered walk-ins, and seating priority will always be given to registered customers. We appreciate your understanding of this new process!