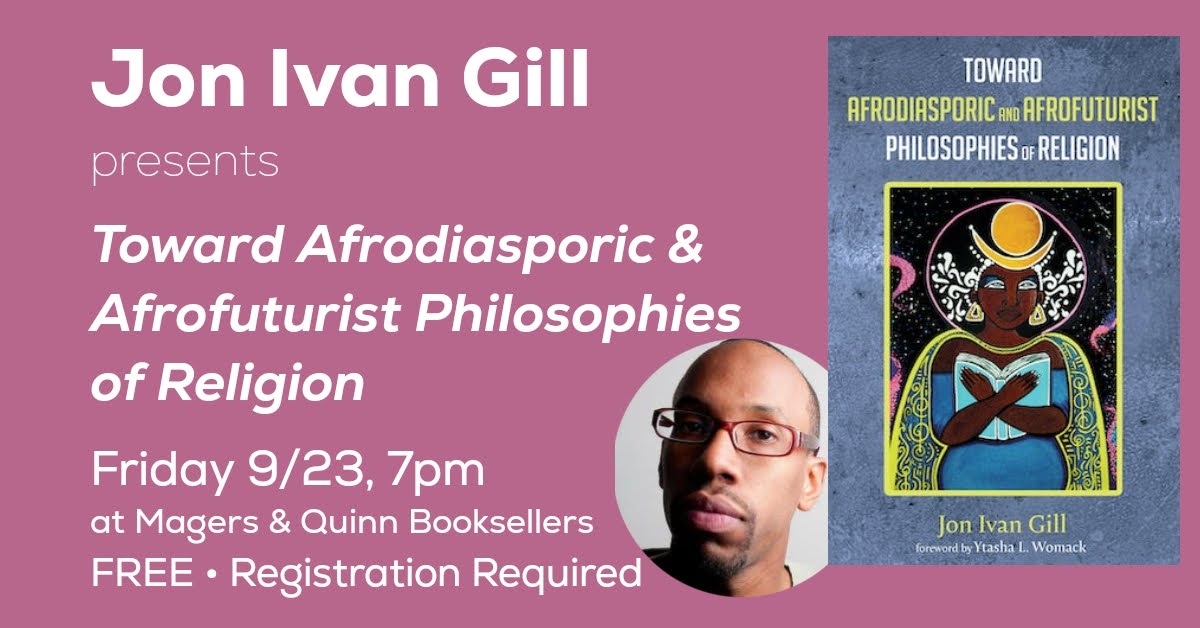 Jon Ivan Gill presents Toward Afrodiasporic and Afrofuturist Philosophies of Religion
Friday, September 23, 7:00 PM
In-Store Event - Free Registration Required
Register Now
Based on the categories of mainstream philosophy of religion, we must ask the question if said categories are adequate to describe the conceptual frameworks of traditions not philosophically dependent on Western theistic understandings, such as religious traditions and philosophies of life emerging from the continent of Africa and appearing in the United States, the Caribbean, North, Central, and South America, and Europe. This book host students from Pomona College and Pitzer College (Claremont Colleges, Claremont, California) who have analyzed the field of philosophy of religion as it stands to determine which of its insights can be applied to Afro-diasporic and Afrofuturist notions of "religion" and which ones cannot.
Their reflections in these chapters will ask: how do we define Afro-diasporic religion, what would a robust philosophy of religion of Afro-diasporic and Afrofuturist religions draw from, what categories would/should it contain, how would we construct such a non-Western methodology of philosophy of religion, and what sources would we use to construct such a philosophy of religion? In an attempt to aesthetically experience what Afro-diasporic and Afrofuturist philosophies of religion are/could be, the text will rely heavily on fiction novels, poetry, music, movies, and texts written by Afro-diasporic people from various social locations and perspectives on some African notions of religion, among other centers of reflection.
Jon Ivan Gill is Assistant Professor of Philosophy at Gustavus Adolphus College and Cross-Community Coordinator at the Center for Process Studies. He has written on Afrofuturism, religion, Hip-Hop, philosophy, poststructuralism, atheism, and creative writing. He is co-owner of Serious Cartoons Records & Tapes in San Bernardino, California and Tijuana, Mexico. He is also a solo Hip-Hop artist using the moniker "Gilead7" and a member of Chicago Hip-Hop collective Tomorrow Kings, Southern California-based Echoes of Oratory Muzik, and the duo Crystal Radio along with Adame, also known as Phantom Thrett. His most recent book, Underground Rap as Religion: A Theopoetic Examination of Process Aesthetic Religion, is in the Routledge Studies in Hip-Hop and Religion series, edited by Monica R. Miller and Anthony B. Pinn.
A note about in person events:
We are very excited to bring authors and readers back together in our space, and we know you are too!
As we all navigate the transition back to congregating in person, we ask that you use honesty, care, and understanding in interacting with fellow event-goers, staff, and authors.
Please note that Magers & Quinn will always comply with current city and state regulations, and reserves the right to change the below policies at any time. These are guidelines only, and if you have questions about the most up to date information, you can always call us at 612-822-4611.
For information about how our in-person events work, please read on:
Q: Are masks required?
A: Masks are not required to browse in the store. However, we strongly encourage masking while seated in the event area and waiting in the signing line.
For the health and safety of others, we strongly encourage you to wear a mask or face covering, especially for longer visits to the store such as events.
Q: Are in store events free?
A: Yes, Magers & Quinn events are free and open to the public unless otherwise noted.
Q: Do I need to RSVP?
A: Yes, please. Each event will now include a registration link.
As we navigate this step back to in-person events, we will be limiting event capacity to ensure a safe and comfortable experience for all attendees and authors. By requiring pre-registration, we can easily communicate event updates and policies with those who plan to attend, and can contact attendees after the event with follow-up information.
We strongly suggest registering via the Eventbrite link provided on our website, but if you are unable to sign up online, please call or visit the bookstore and register with a bookseller.
We may or may not be able to accommodate unregistered walk-ins, and seating priority will always be given to registered customers. We appreciate your understanding of this process!