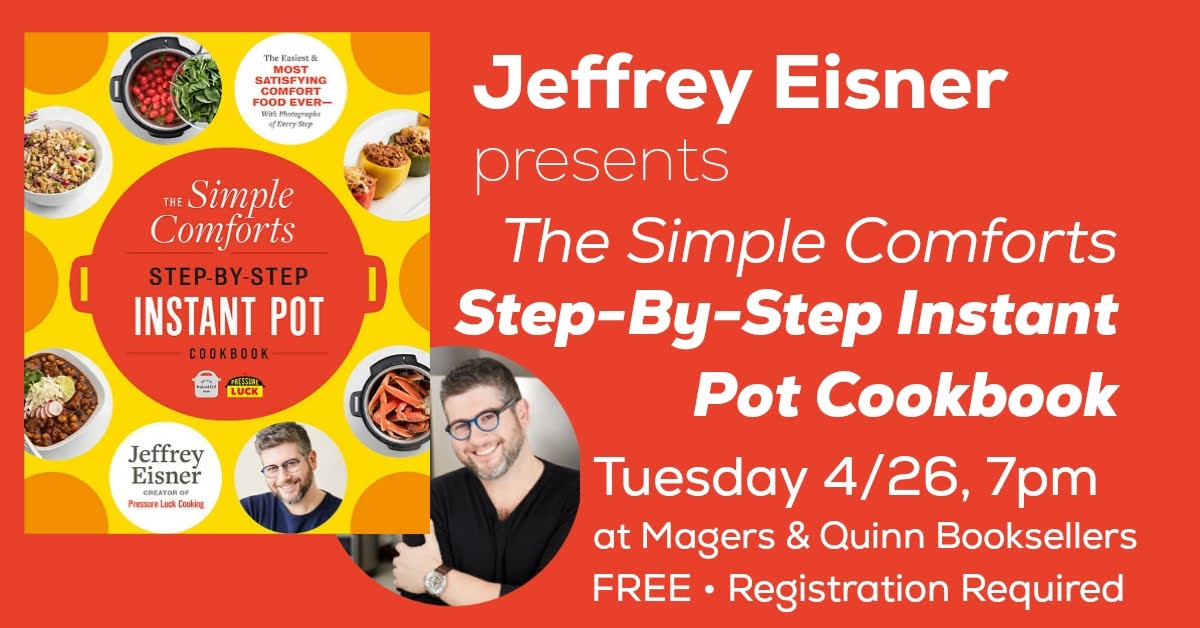 Jeffrey Eisner presents The Simple Comforts Step-By-Step Instant Pot Cookbook
Tuesday, April 26, 7:00 PM
In-Store Event - Registration Required
Register Now
Easy, comforting Instant Pot meals from #1 bestselling author and superstar blogger Jeffrey Eisner, featuring color photos of every step in each mouthwatering recipe – with variations to fit your lifestyle, from keto to vegan.
Aren't we all hungry for a little comfort? Fresh off of two #1 national bestsellers, Jeffrey Eisner is back with a crave-worthy collection of recipes that make it feel like everything's all right in the world. You'll get his "Pressure Luck" spin on classics and brand-new creations such as:
Cacio e Pepe
French Onion Risotto
Chicken Gnocchi Soup
New York-style Pastrami
Garlic Mashed Potatoes
Cream of Bacon Soup
Reuben Rotini
Korean Beef Bulgogi Tacos
and a sinfully decadent Stuffed S'mores Cake.
These heart-warming, super-satisfying, intensely flavorful dishes are easy to prepare in your Instant Pot pressure cooker. Eisner also includes variations to adapt many dishes to your lifestyle (from vegan to keto), and a whole chapter devoted to recipes that use only 7 ingredients or less.
With hundreds of crystal-clear pictures guiding every step, and recipes featuring easy-to-find ingredients and even easier-to-master techniques, The Simple Comforts Step-by-Step Instant Pot Cookbook combines the magic of your favorite comfort food with the speed and simplicity of your favorite kitchen appliance. Get cooking—and put a smile on your plate.
Jeffrey Eisner is the creator of Pressure Luck Cooking, an acclaimed, easy-to-follow Instant Pot recipe video blog, and author of two #1 national bestsellers,The Step-By-Step Instant Pot Cookbook and The Lighter Step-By-Step Instant Pot Cookbook. Featured on the Food Network, Good Morning America, and Rachael Ray, he creates his famously flavorful recipes at home in Queens, New York.
Publishing Agent Nicole Tourtelot is an agent at The Gernert Company. She joined the agency in 2020. Book Agent Nicole Tourtelot graduated from Columbia University with a BA in English and worked in journalism before transitioning to publishing. She started her agenting career in 2009 at International Creative Management in New York and went on to work as an agent at Kuhn Projects (now Aevitas Creative Management) and then at DeFiore and Company Literary Management. She joined The Gernert Company in 2020 and works out of the LA office.
A note about in person events:
We are very excited to bring authors and readers back together in our space, and we know you are too!
We ask that you use honesty, care, and understanding in interacting with fellow event-goers, staff, and authors.
Please note that Magers & Quinn will always comply with current city and state regulations, and reserves the right to change the below policies at any time. These are guidelines only, and if you have questions about the most up to date information, you can always call us at 612-822-4611.
For information about how our in-person events will work over the coming months, please read on:
Q: Are masks required?
A: Please wear a mask while in the event area and in the signing line.
For the health and safety of others, we strongly encourage you to wear a mask or face covering.
Q: Are in store events free?
A: Yes, Magers & Quinn events are free and open to the public unless otherwise noted.
Q: Do I need to RSVP?
A: Yes, please. Each event will now include a registration link.
As we navigate this step back to in-person events, we will be limiting event capacity to ensure a safe and comfortable experience for all attendees and authors. By requiring pre-registration, we can easily communicate event updates and policies with those who plan to attend, and can contact attendees after the event with follow-up information.
We strongly suggest registering via the Eventbrite link provided on our website, but if you are unable to sign up online, please call or visit the bookstore and register with a bookseller.
We may or may not be able to accommodate unregistered walk-ins, and seating priority will always be given to registered customers. We appreciate your understanding of this new process!