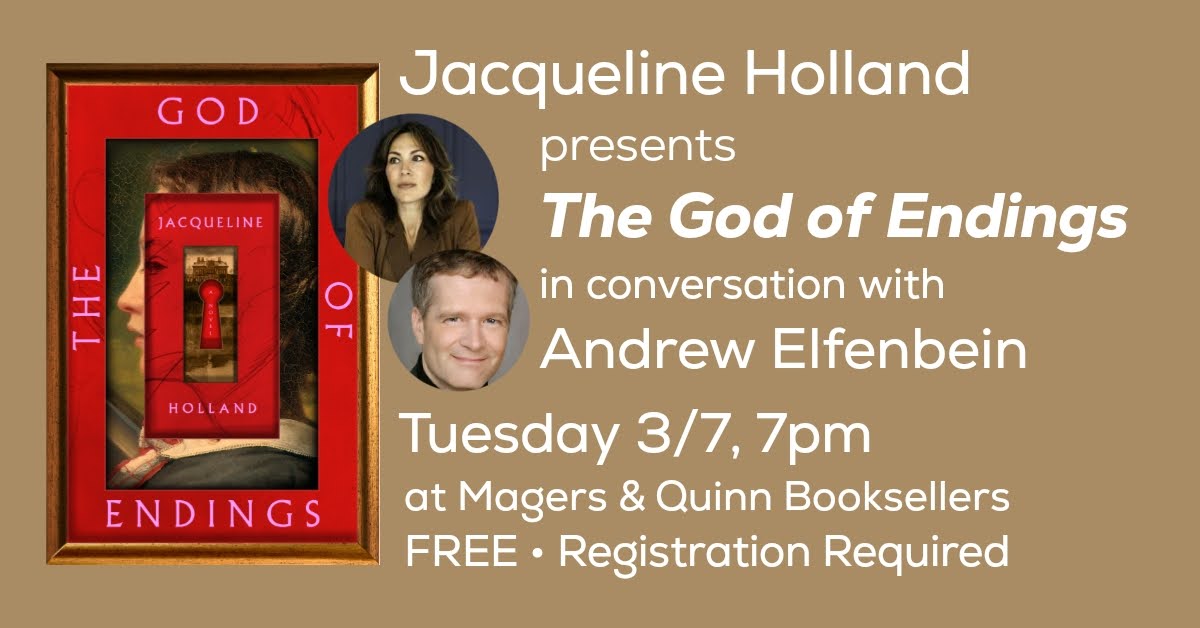 Jacqueline Holland presents The God of Endings
Tuesday, March 7, 7:00 PM
In-Store Event - Registration Required
Register Now
Weaving together elements of horror and fantasy, historical fiction and domestic suspense, Matt Haig's How to Stop Time meets Amor Towles' A Gentleman in Moscow meets V. E. Schwab's The Invisible Life of Addie LaRue in this masterful, suspenseful, and centuries-sweeping tale that is told through the eyes of a lonely artist, who never wanted her immortality.
A deft bildungsroman, Collette LeSange lives an unassuming life as the head of an elite fine arts school for children in upstate New York. Yet her youthful beauty masks the dark truth of her life: she has endured centuries of turmoil and heartache in the wake of her grandfather's long-ago decision to make her--then just a four-year-old girl--a vampire like himself. Sweeping from upstate New York, to Grimm fairytale-esque eastern Europe, where she learned to survive as a vampire, to a small village in France, where she became known as as Nacht Bestie, a phantom killing Nazis during WWII, Collette's life is completely upended in 1984 by the arrival of a gifted student from a troubled home, the return of a stalking presence from her past, and her own mysteriously growing hunger.
Combining brilliant prose with breathtaking suspense, The God of Endings is a meditation on the meaning of family, love, and art, and serves as a larger exploration of the human condition in all its complexity, asking us the most fundamental question: is life in this world a gift or a curse?
Jacqueline Holland holds an MFA from the University of Kansas. Her work has appeared in Hotel Amerika and Big Fiction magazine, among others. She lives in the Twin Cities with her husband and two sons. The God of Endings is her first novel.
Andrew Elfenbein is Professor of English at the University of Minnesota. His books include Byron and the Victorians, Romantic Genius, Romanticism and the Rise of English, and The Gist of Reading. For Longman, he has edited Wilde's The Picture of Dorian Gray and Stoker's Dracula.
A note about in person events:
We are very excited to bring authors and readers back together in our space, and we know you are too!
As we all navigate the transition back to congregating in person, we ask that you use honesty, care, and understanding in interacting with fellow event-goers, staff, and authors.
Please note that Magers & Quinn will always comply with current city and state regulations, and reserves the right to change the below policies at any time. These are guidelines only, and if you have questions about the most up to date information, you can always call us at 612-822-4611.
For information about how our in-person events work, please read on:
Q: Are masks required?
A: Masks are not required to browse in the store. However, we strongly encourage masking while seated in the event area and waiting in the signing line.
For the health and safety of others, we strongly encourage you to wear a mask or face covering, especially for longer visits to the store such as events.
Q: Are in store events free?
A: Yes, Magers & Quinn events are free and open to the public unless otherwise noted.
Q: Do I need to RSVP?
A: Yes, please. Each event will now include a registration link.
As we navigate this step back to in-person events, we will be limiting event capacity to ensure a safe and comfortable experience for all attendees and authors. By requiring pre-registration, we can easily communicate event updates and policies with those who plan to attend, and can contact attendees after the event with follow-up information.
We strongly suggest registering via the Eventbrite link provided on our website, but if you are unable to sign up online, please call or visit the bookstore and register with a bookseller.
We may or may not be able to accommodate unregistered walk-ins, and seating priority will always be given to registered customers. We appreciate your understanding of this process!