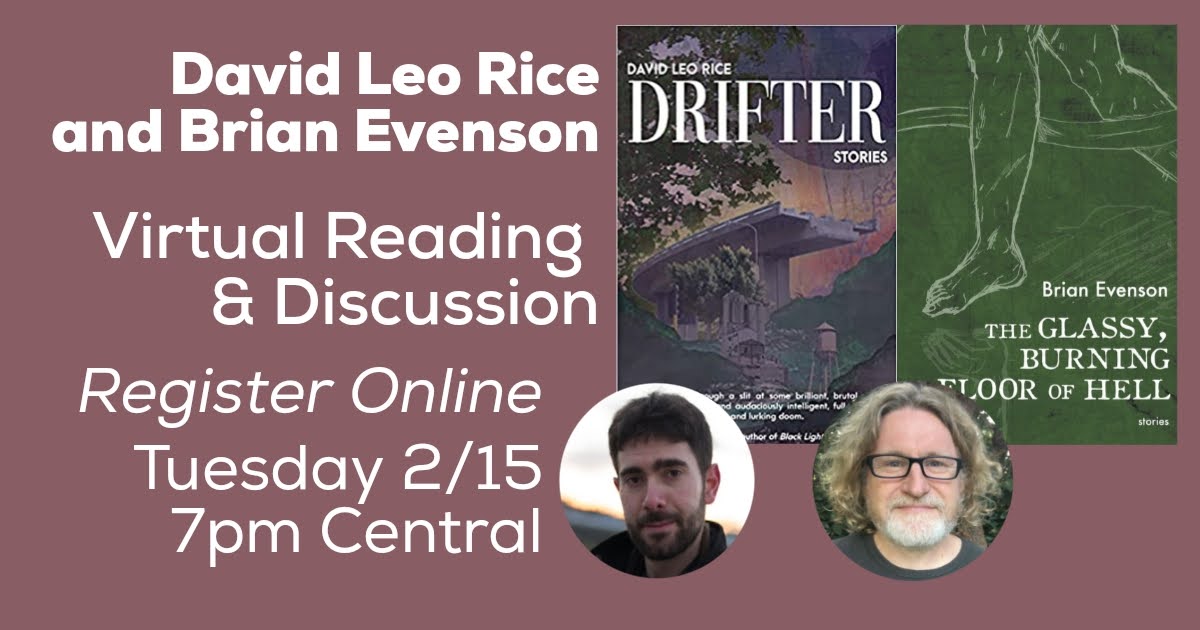 David Leo Rice and Brian Evenson
Tuesday, February 15, 7:00 PM
Virtual Event - Register Through Eventbrite
Register Now
Authors David Leo Rice and Brian Evenson present recent horror short stories in this virtual event.
Collecting a decade's worth of stories, Drifter is a wild trip through the occult and surreal undercurrents of contemporary life. Ever in pursuit of illumination and unholy opportunity, the characters in these stories roam from blighted Western settlements to eerie New England circuses, from the backwoods of Austria to the remotest reaches of Japan, and from seedy Caribbean islands to the shadow of the Swiss Alps. Blessed and cursed with the freedom to transgress all boundaries, Rice's drifters operate in the shadows of our world, revealing how frayed the fabric of reality has already become.
David Leo Rice is an author living in NYC. His novels include The Dodge City Trilogy, Angel House, and The New House, coming soon. Drifter: Stories is his debut collection.
A sentient, murderous prosthetic leg; shadowy creatures lurking behind a shimmering wall; brutal barrow men—of all the terrors that populate The Glassy, Burning Floor of Hell, perhaps the most alarming are the beings who decimated the habitable Earth: humans. In this new short story collection, Brian Evenson envisions a chilling future beyond the Anthropocene that forces excruciating decisions about survival and self-sacrifice in the face of toxic air and a natural world torn between revenge and regeneration. Combining psychological and ecological horror, each tale thrums with Evenson's award-winning literary craftsmanship, dark humor, and thrilling suspense.
Brian Evenson is the author of over a dozen works of fiction. He has received three O. Henry Prizes for his fiction. His most recent book, Song for the Unraveling of the World, won a World Fantasy Award and a Shirley Jackson Award and was a finalist for both the Los Angeles Times Ray Bradbury Prize for Science Fiction, Fantasy, and Speculative Fiction and the Balcones Fiction Prize. He lives in Los Angeles and teaches at CalArts.