Wednesday, September 19, 7:00pm Magers And Quinn Booksellers (map)
William Kent Krueger presents Desolation Mountain, with Jess Lourey and Lori Rader-Day
About Desolation Mountain:

All his life, Stephen O'Connor has had visions, portents of tragedies to come. When he's visited time and again by the vision of a great bird shot from the sky, he knows something terrible is about to happen in Tamarack County, Minnesota. The crash of a private plane on Desolation Mountain in a remote part of the Iron Lake Reservation, which kills a U.S. senator and most of her family, confirms Stephen's worst fears. Stephen and his father, Cork O'Connor, join a number of Ojibwe men from the Iron Lake reservation, who were the first on the scene. They've barely begun to sift through the smoldering wreckage when the FBI arrives and quickly assumes control of the situation, dismissing Cork, Stephen, and the other searchers.

In that far north Minnesota county, which is overrun with agents of the FBI, NTSB, DoD, and even members of a rightwing militia, all of whom have their own agendas, O'Connor, his father, and Bo Thorson, a private security consultant, attempt to navigate a perilous course. Roadblocked by lies from the highest levels of government, uncertain who to trust, facing evermore threats the deeper they dig for answers, the three men finally understand that to get to the truth, they will have to face the great menace: the beast huge and evil lurking in the woods that surround Desolation Mountain, a beast with a murderous intent of unimaginable scale.


William Kent Krueger writes the New York Times bestselling Cork O'Connor mystery series. Krueger's work has received a number of awards, including the Edgar Award, the Anthony Award, the Barry Award, the Minnesota Book Award, the Loft-McKnight Fiction Award, and the Friends of American Writers Prize. He makes his home in St. Paul, a city he dearly loves.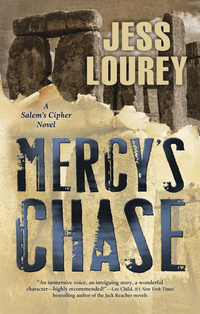 About Mercy's Chase:

"An immersive voice, an intriguing story, a wonderful character—highly recommended!"—Lee Child, #1 New York Times bestselling author of the Jack Reacher novels

What if everything you thought you knew about Stonehenge was wrong?

When agoraphobic genius Salem Wiley lands her dream job as an FBI cryptanalyst, she vows never to return to the witch hunt underworld, where ancient secrets encrypted by hunted women have the power to rewrite history. Her resolve disappears when sweet Mercy Mayfair, the child she is pledged to protect, is kidnapped. With the help of the enigmatic Agent Lucan Stone, Salem is forced to code hunt in Ireland, England, and Scotland to keep the girl alive. As the clock ticks, she must face the terrible truth that there is only one way to free Mercy: crack the unbreakable code of Stonehenge.


Jess Lourey (rhymes with "dowry") is the bestselling Lefty, Agatha, and Anthony-nominated author of the critically-acclaimed Mira James mysteries, which have earned multiple starred reviews from Library Journal and Booklist, the latter calling her writing "a splendid mix of humor and suspense." Jess also writes nonfiction, edge-of-your-seat YA adventure, magical realism, and feminist thrillers. She is a tenured professor of creative writing and sociology, a recipient of The Loft's Excellence in Teaching fellowship, a regular Psychology Today blogger, and a TEDx presenter (check out her TEDx Talk to discover the surprising inspiration behind her writing). You can find out more at jessicalourey.com.





About Under a Dark Sky:

"A brilliant concept, brilliantly told! Under a Dark Sky is a novel that you simply can't put down…" -Jeffery Deaver, international number-one-bestselling author

Since her husband died, Eden Wallace's life has diminished down to a tiny pinprick, like a far-off star in the night sky. She doesn't work, has given up on her love of photography, and is so plagued by night terrors that she can't sleep without the lights on. Everyone, including her family, has grown weary of her grief. So when she finds paperwork in her husband's effects indicating that he reserved a week at a dark sky park, she goes. She's ready to shed her fear and return to the living, even if it means facing her paralyzing phobia of the dark.

But when she arrives at the park, the guest suite she thought was a private retreat is teeming with a group of twenty-somethings, all stuck in the orbit of their old college friendships. Horrified that her get-away has been taken over, Eden decides to head home the next day. But then a scream wakes the house in the middle of the night. One of the friends has been murdered. Now everyone—including Eden—is a suspect.

Everyone is keeping secrets, but only one is a murderer. As mishaps continue to befall the group, Eden must make sense of the chaos and lies to evade a ruthless killer—and she'll have to do it before dark falls…

Lori Rader-Day's debut mystery, The Black Hour, won the 2015 Anthony Award for Best First Novel and was a finalist for the 2015 Mary Higgins Clark Award. Her second novel, Little Pretty Things, won the 2016 Mary Higgins Clark Award and was a nominee for the Anthony Award for Best Paperback Original. Little Pretty Things was named a 2015 "most arresting crime novel" by Kirkus Reviews and one of the top ten crime novels of the year by Booklist. Her third novel, The Day I Died, was an Indie Next Pick and is a nominee for the Mary Higgins Clark Award and the Barry Award. She lives in Chicago.